Luxury car manufacturer Bentley has ventured into the world of baby gear with a high-end £535 tricycle designed for infants as young as six months old. This opulent three-wheeler is part of Bentley's extravagant pushchair collection, drawing inspiration from their renowned 'Bentley Continental GT' model.
The baby tricycle offers a taste of luxury, complete with miniature Mulliner wheels and sumptuous leather seating. Its seats are adorned with luxurious diamond quilted patterns, providing a comfortable and stylish experience for the young passengers. A prominent Bentley logo is meticulously stitched into the child's headrest.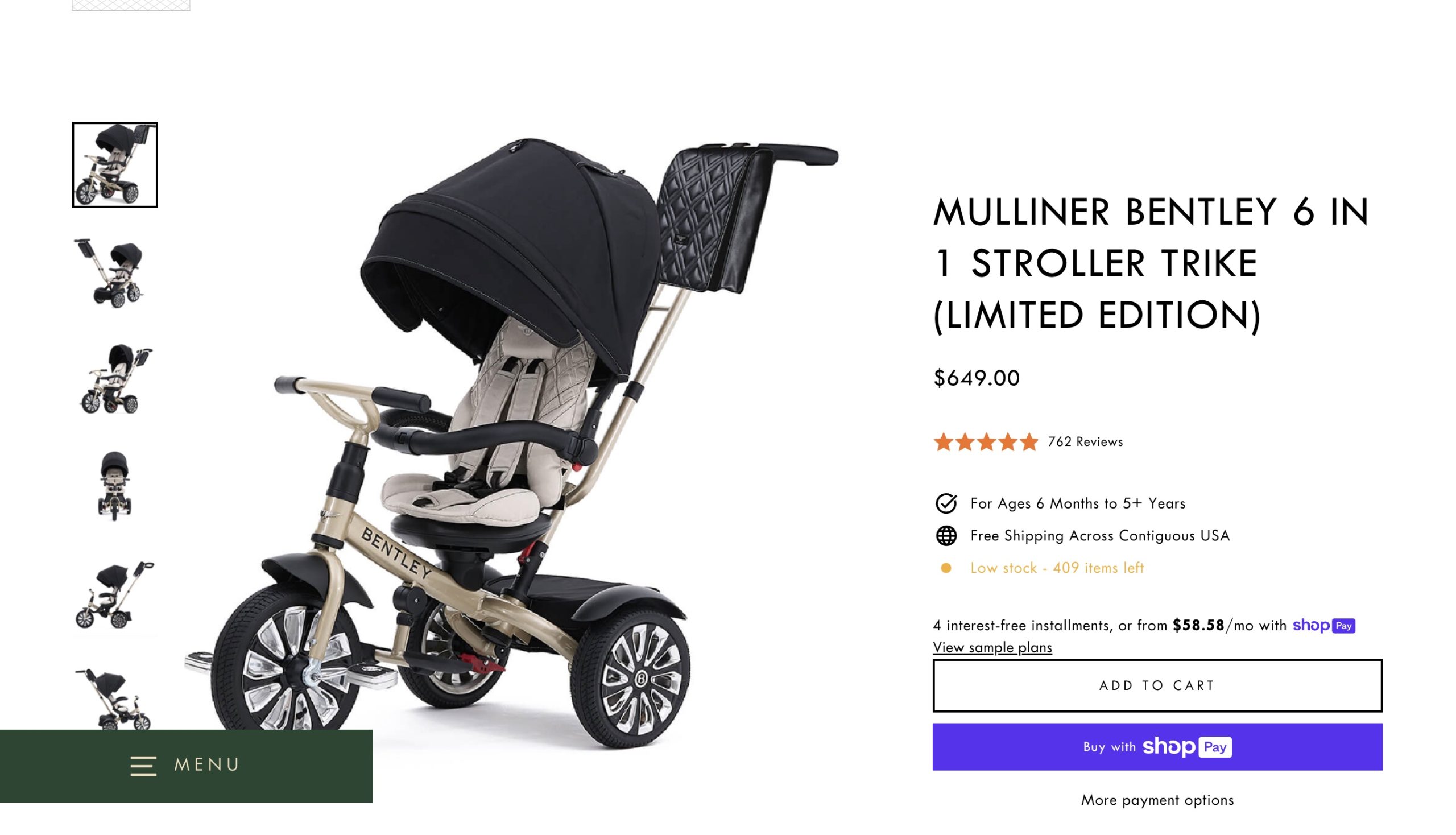 The tricycle's seat is ingeniously designed to simulate the shape of a car seat, ensuring a snug and secure fit. The wheels proudly display the iconic 'B' Bentley logo and feature the inscription "Bentley Mulliner" around the disks. Even the pedals have been meticulously crafted, mirroring the design of the luxurious car's pedals and bearing the iconic 'B' logo.
For added convenience, the trike includes a handle for parents to push until their child reaches the age of two. Afterward, parents can remove the handle and cover, transforming it into a pedal trike for children up to age five.
Customer opinions on the new Bentley tricycle are mixed. One father, John, praised its ease of assembly and good customer service but noted its weight and slight difficulty in steering. On the other hand, mum Francie expressed admiration for the stroller but wished it could fold. Meanwhile, Shayla lauded the tricycle's customizable features to suit a child's age and praised its impressive build quality.
Despite its steep price, the product seems to be in high demand, with the website indicating low stock levels. The product description touts the tricycle's inspiration from the exclusive Bentley Continental GT, which had only 12 units available. It highlights the Bentley Mulliner Tricycle's exceptional combination of style, comfort, and functionality, designed for children who appreciate life's finer things. Constructed with meticulous attention to detail and high-quality materials, this tricycle promises durability and longevity.
Whether this luxurious tricycle becomes a must-have for Bentley aficionados or a niche item for pampered toddlers remains to be seen, but it certainly adds a touch of opulence to the world of baby gear.