Marketers, public relations professionals and business all need trusted press release distribution to attract media coverage and get stories in front of the public eye. In fact, more than 40% of journalists believe that press releases are the most trustworthy form of information from brands and companies.
Unfortunately, finding the best press release distribution services for your needs can be hard. With so many companies offering this product, it's hard to know who to work with. 
That's why we're taking a look at 14 press release syndication and distribution services available in the UK and US. 
PR Fire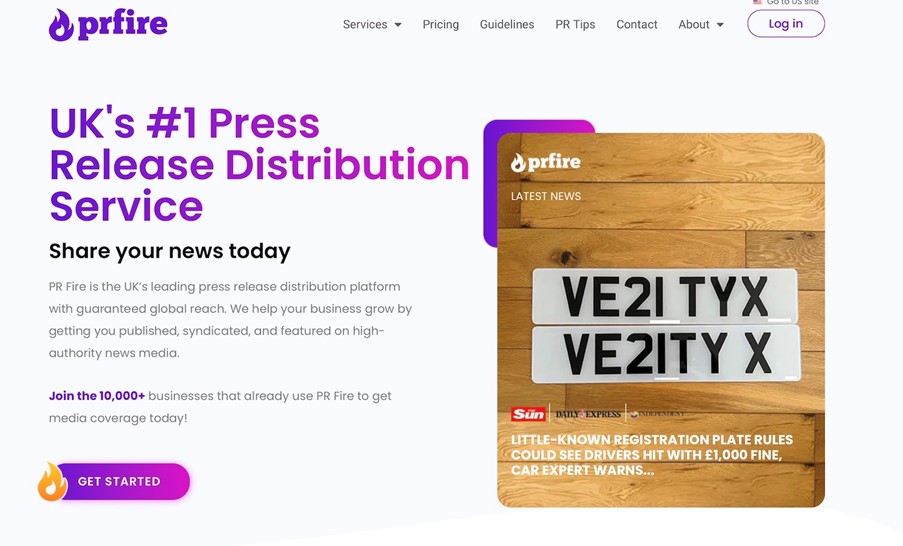 PR Fire is one of the most cost effective and professional services on the market. Their team is made up of experienced PR consultants and journalists in both the UK and the US. They've achieved proven results for world class clients. 
Their user-friendly ordering portal lets customers stay in control of their budget, allowing them to choose the sectors they want to target and add guaranteed Google news coverage or guaranteed syndication to their orders. Their highly-skilled team will hand-pick a journalist list based on client specifications and send distribution reports after a story has been released. 
PR FIre offers same-day service along with expert press release writing for an added cost. They also provide translation services for international press release distribution. 
Prices start from £95 / $110 for press release distribution. 
Pressat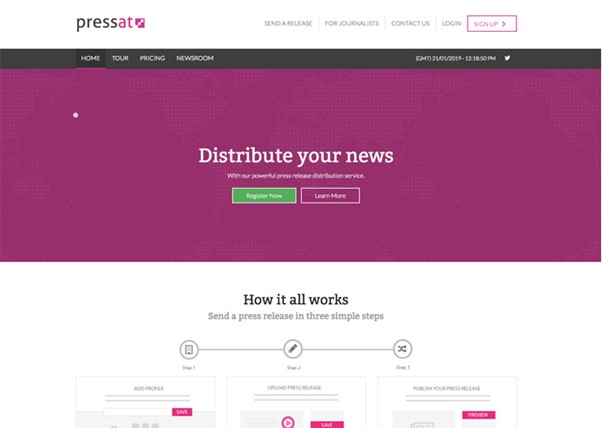 Pressat takes a methodical approach to their press release distribution services, targeting audiences that will have a vested interest in a story. 
The team makes it a point to never spam journalists. Instead, they offer clients distribution to their custom opt-in list of over 33,000 journalists. They also have the capability to target the top news outlets like Google News and Bing. 
Pay-as-you-go plans start at £110 per press release. Customers can also sign up for monthly accounts for £290 per month or an annual package for £1,499 per year.   
PR Web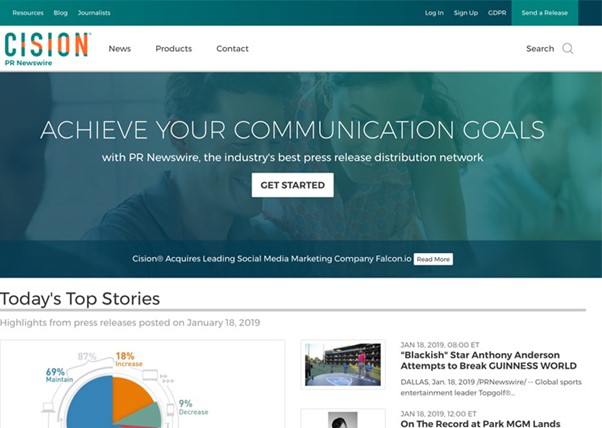 PR Web is a US-based press release distribution service offering a number of different packages for customers to choose from. They've helped over 30,000 organisations get media coverage and they work across a wide range of industries. 
Their services include syndication to a network of 1,200 websites, keyword tagging and proofreading. Their prices fluctuate depending on the service required. Clients find their coverage easy to track thanks to their comprehensive reporting.  
Prices start from $105 per release to $435 per press release for a 24 or 48 hour turnaround. 
Vuelio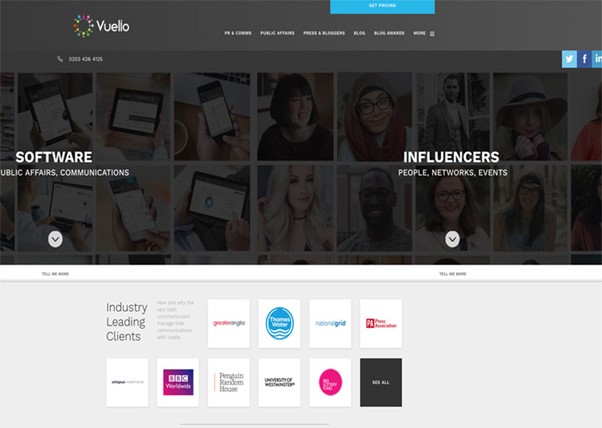 This UK-based press release distribution service allows businesses to send their stories to thousands of journalists and bloggers around the world. Vuelio also offers products many distribution services don't, including media monitoring, analysis, a political database and more. 
Their market-leading software gives PR professionals a chance to maximise the reach of a story using technology most people don't have access to. And while they offer top-tier service and exceptional follow-up for their clients, their prices (which aren't listed) are geared toward organisations with larger budgets. 
E-Releases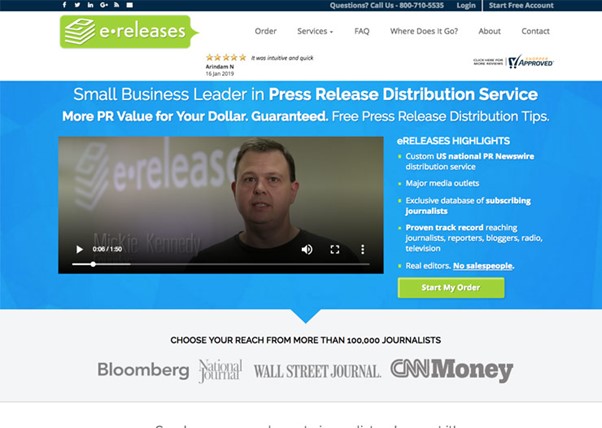 This US-based service offers press release distribution and writing. E-Releases provides a full range of PR distribution services such as editorial reviews, targeted distribution to a database of over 1.7 million journalists and spam protection. They guarantee that stories will be posted on 75 different sites.
Their distribution service is done through PR Newswire. E-Releases offer a number of distribution and writing packages that allow their clients to choose the best services for their needs. However, their pricing is a bit on the high side. 
Press releases with E-Releases can't be more than 400 words and clients can choose from one industry list. 
Presswire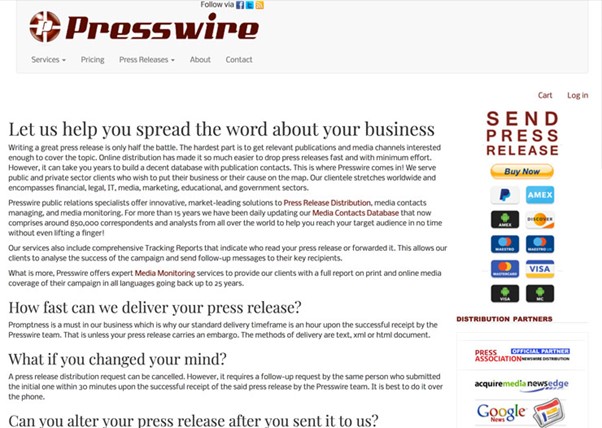 Presswire is a SaaS platform that sends press releases to their global media contact database and provides tracking services as well. They market their services as "bespoke" distribution. However, this targeted approach is commonplace in the industry. 
Clients send their press releases out via the Presswire website portal, which is straightforward, but dated. Their tracking services are an extra £50 per release and they also offer SEO services for an added fee. Clients can take advantage of  several add-ons like international distribution and translation. 
Pricing starts at £150 for an individual press release distribution. 
Business Wire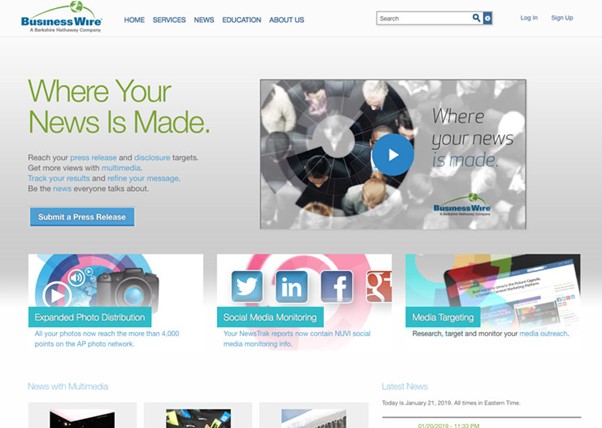 With locations in the US, Europe and Asia, Business Wire's patented network can reach nearly 90,000 media outlets across over 160 countries. They offer a full range of public relations services like press release distribution, investor relations services and analytics and media tools. 
Business Wire can target digital, print and TV publications. They also offer an interactive multimedia tool, advanced reporting and social media monitoring. All these features set them apart from other press release distribution services. 
This is great service for businesses with a sizable budget and the need for a wide range of distribution services. Pricing isn't listed on their website, so potential clients will need to reach out for a quote. 
24-7 Press Release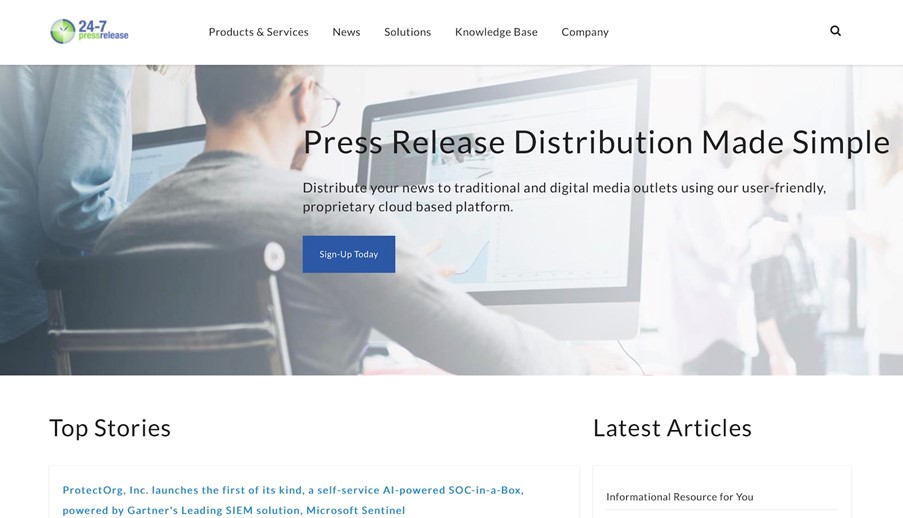 Affordability is the name of the game for 24-7 Press Release. Their starter package is one of the cheapest on the market, at just $49. And while it's a basic package, customers can take advantage of add-ons that can help them reach their goals. This is a great press release distribution service for small businesses or independent professionals that just need to get their story in front of more eyes. 
24-7 Press Release also offers press release writing services and an Agency Preferred Program designed for clients with higher volume distribution needs. They offer discounts for bulk packages, but don't list actual figures on the website. 
PR Newswire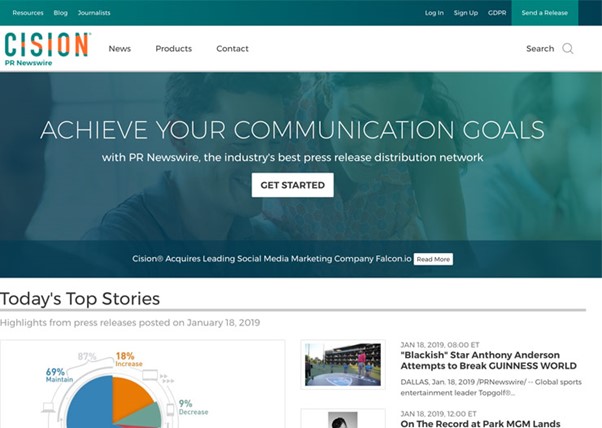 PR Newswire is one of the most recognized and biggest press release distribution services out there. They have a journalist network of over 40,000 members and work with over 3,000 media outlets. 
Along with press release distribution and syndication, PR Newswire offers services for marketers like branded landing pages and creative services. They're a one-stop shop for PR and content marketing. 
While their network, expertise and technology is impressive, it's also pricey.  
Services start at $299 or £230. 
PR Gloo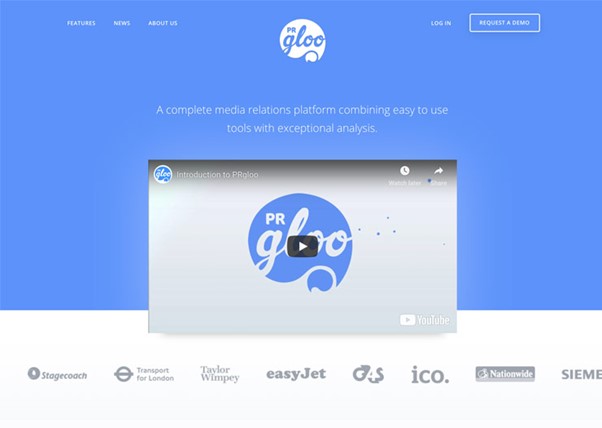 PR Gloo is for businesses that need more than just press release distribution. They're a bit like an online PR agency, offering a range of media comms tools. 
This is a great service for businesses needing a story-telling service along with distribution. PR Gloo provides tech tools that assist with things like media response, event planning and media outreach. 
Pricing isn't listed on their website, but potential clients can request demos and learn more about the cost by contacting PR Gloo. 
PR Underground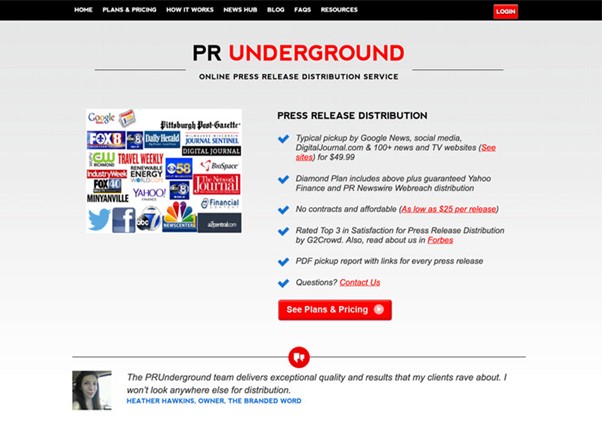 This no-nonsense US press release distribution service is another great option for businesses on a strict budget. They offer four packages starting at $75. 
PR Underground's process is simple. Clients simply pick a distribution plan, create an account, create their own newsroom and submit their press release. Add-on distribution is available at an extra cost. 
The downside is they don't offer editorial services, so clients need to be sure their press releases are well-written and optimised. Furthermore, PR Underground's online customer experience is lacking. 
ReleaseWire

ReleaseWire is a good option for small businesses in the US that want to make a big impact without spending too much. They have the network to syndicate to 350 media websites and distribute to AP news and other major media newsrooms. 
In addition to syndication and distribution, ReleaseWire offers a press release manager feature that guides clients through the PR writing process. Clients also get access to their analytics dashboard so they can monitor engagement with their story. 
Pricing starts at $49 for an individual press release. 
GlobeNewsWire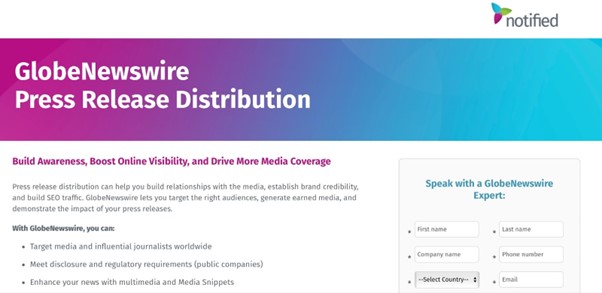 GlobeNewswire is a US-based company offering press release distribution service in over 130 countries and in 35 languages. They also provide editorial support around the clock. 
Their media contacts database incorporates AI tools to help clients streamline their media outreach process. GlobeNewswire also offers social listening and media monitoring tools. 
Clients must request demos of their different services and get quotes online. 
NewswireJet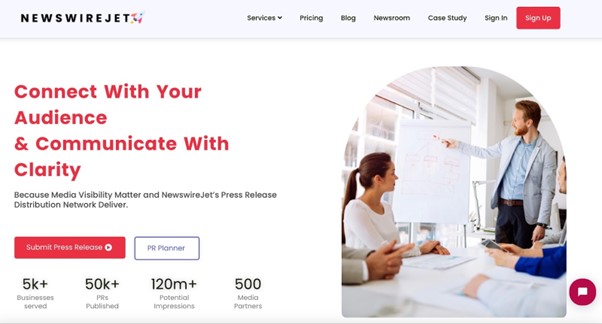 US-based NewswireJet is another straightforward distribution service perfect for small businesses on a budget. Their offerings consist of press release distribution and writing. 
NewswireJet offers four distribution tiers differentiated by media reach. They offer syndication to highly-recognized outlets like Yahoo!, Google, NBC, ABC, AP News and much more. The two more expensive packages include press release writing. 
While the service offering and pricing is easy to understand, the ordering process is a bit vague. New customers need to create an account on their website to place an order. 
Find the Best Press Release Distribution Service for Your Needs
The companies highlighted above represent some of the best press release distribution services out there. However, there are many more to choose from. 
If you're unsure who to go with, a little trial and error won't hurt. Try a few services to begin with and work with the one that gets the best results at a price point that works for you.