Previously owned by the renowned business magnate Sidney Frank, this remarkable mansion, priced at £27m ($34m), is a paradise for car enthusiasts, boasting a stunning 30-car garage located beneath the property.
Sidney Frank, best known for securing the importing rights to Jagermeister and creating the iconic Grey Goose vodka, crafted a lavish 10-bedroom mansion fit for royalty.
Spanning an impressive 17,878 sq ft, the mansion offers a grandeur that matches its extravagant price tag. With 16 bathrooms, five half bathrooms, a library, a gym, a wine cellar, and two pools, it presents the epitome of luxury living.
Situated on a vast 19-acre plot of land, the mansion provides an exclusive haven, surrounded by meticulously manicured lawns and flourishing hydrangea bushes, making it the perfect backdrop for glamorous garden parties.
Upon entering the property, guests are greeted by an awe-inspiring dual staircase, complemented by marble chequered floors and an opulent chandelier.
The main sitting room, one of four in the mansion, exudes sophistication with its sleek wooden interiors, quilted sofas, and a spacious bar, ideal for entertaining guests or unwinding with a refreshing beverage.
For those who work remotely, the mansion offers a private office and library adorned with floor-to-ceiling bookcases equipped with a rolling ladder. The desk provides a tranquil view of the garden, fostering a serene work environment.
Adjacent to the spacious kitchen, featuring a large central island, is a charming breakfast room that offers panoramic 270-degree views of the grounds. Additionally, a formal dining room is available for hosting special occasions.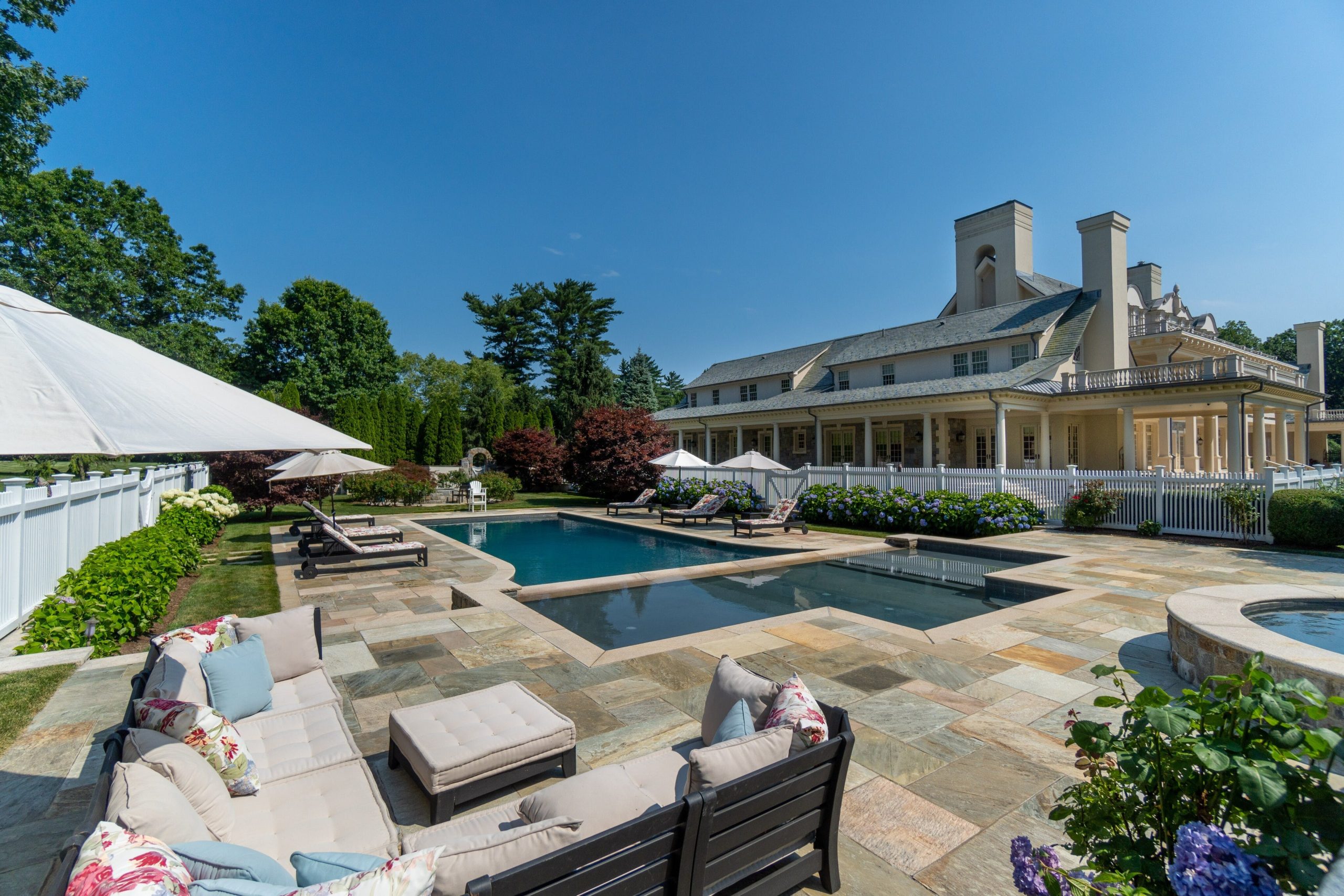 The expansive garage can house up to 30 cars, catering to the desires of car enthusiasts with a diverse range of makes and models. An additional three-car garage is also present on the grounds, providing ample space for automotive treasures.
Adjacent to the main house, a pool house awaits, complete with a separate kitchen and bathroom for guests, as well as two stunning swimming pools.
This extraordinary property, situated in Greenwich, Connecticut, is currently listed with Brown Harris Stevens for $34m (£27m), offering an exceptional opportunity to own a piece of luxurious automotive paradise.