Analysis of Google search data carried out by customised jewellery experts at Glamira has revealed that searches for 'Camilla necklace' in the UK exploded by 2,400% on 6th May, based on data from the previous 7 days.
The term received the highest number of searches, in comparison to other items of jewellery worn by the Royal Family at the King's Coronation, and nearly 16,000 tweets in the past week have mentioned the Queen Consort's jewellery.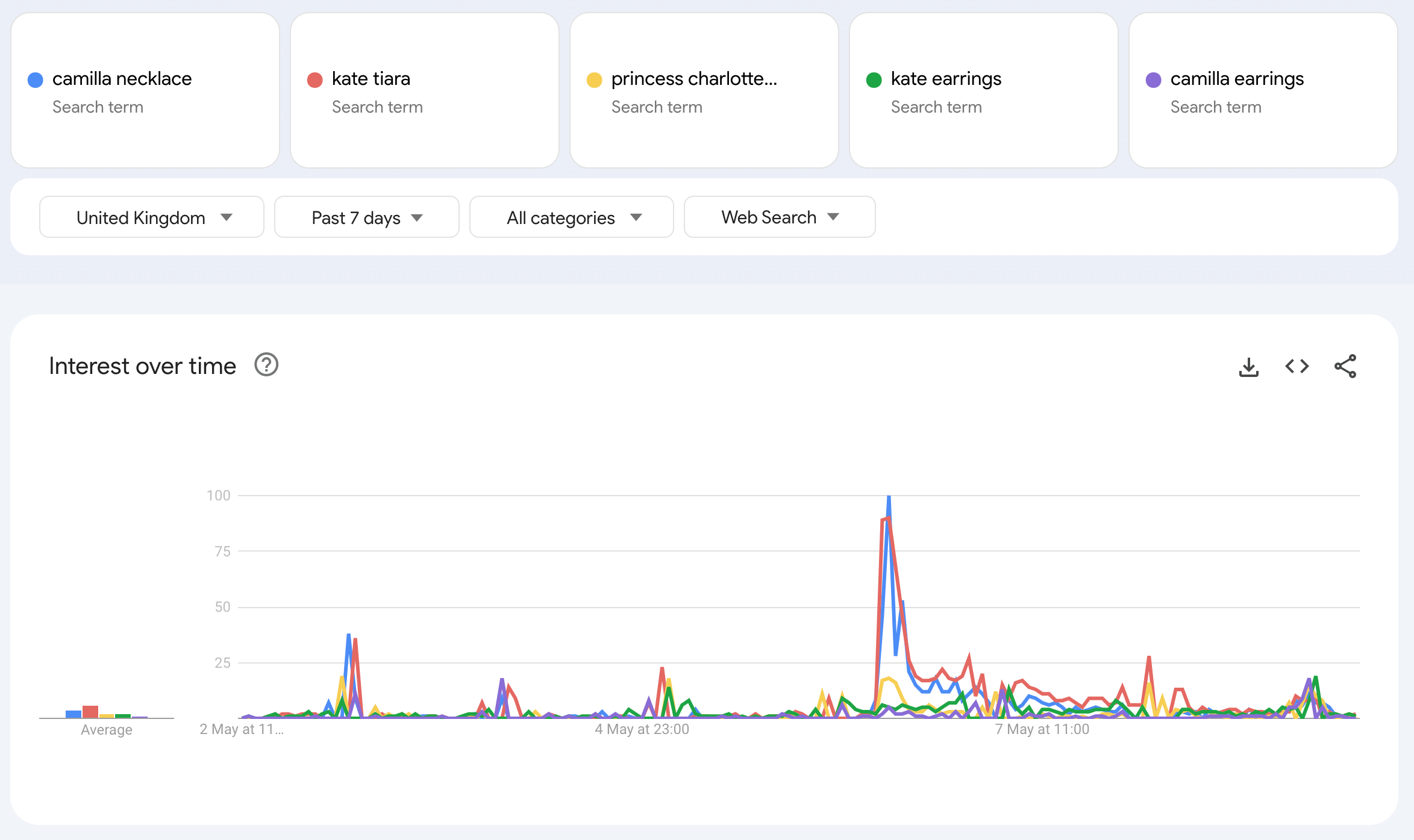 At the ceremony, there was an abundance of extravagant jewellery on display by the Royal Family. Kate's diamond and south sea pearl earrings were worn to pay tribute to Princess Diana, which saw an 800% increase for 'Kate earrings', while 'Kate tiara' witnessed a rise of 1,400%. In fact, Princess Charlotte wore a matching headpiece to Kate, which led to searches for 'Princess Charlotte tiara' to explode by 1250%.
However, one piece in particular that caught the public's eye was Camilla's necklace, after experiencing a surge of 2400% on Google.
Known as the Coronation Necklace, the piece dates back to 1858, where it was first presented to Queen Victoria and was worn by several queens for their coronations – including the late Queen Elizabeth. The necklace holds 25 graduated brilliant cut diamonds and features a 22.48 carat pendant known as the Lahore Diamond, and even has a pair of earrings to match. Although, Camilla wore her own diamond drop earrings which sparked interest in Brits leading to an increase of 1700% in searches for 'Camilla earrings'.
A spokesperson from Glamira has commented on the findings: "With over 20 million Brits tuning in to watch the King's Coronation on Saturday, there was bound to be many people admiring the glamorous jewellery worn by the Royal Family."
"However, it's interesting to see that the most popular item of jewellery from the day was the necklace worn by Camilla, despite the controversy surrounding her relationship with Charles. On top of this, Camilla's necklace proved more popular than Kate's earrings which were once Diana's, otherwise known as the people's princess. Perhaps it is a sign that the public are more accepting of the relationship, particularly now that she has been crowned as the Queen's consort."
These insights were provided by Glamira, experts in customised jewellery.