Maui, Napa Valley, New Orleans… America boasts an abundance of fabulous destinations for couples seeking romantic experiences. While these well-known destinations continue to dominate the market, the quest for truly unique and unforgettable experiences leads couples to explore lesser-known, yet equally enchanting, romantic getaways.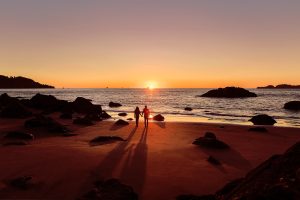 As the summer season approaches, HoneymoonAlways.com commissioned a poll involving 3,000 couples to ascertain which alternative romantic destinations they are most eager to visit this year, with some interesting results…

#1 In first place came St. Augustine, in Florida. This historic city boasts a rich past, with cobblestone streets, Spanish colonial architecture, and centuries-old landmarks. Couples can explore the enchanting old town hand-in-hand, taking in the romantic ambiance and discovering hidden gems at every turn. The city's coastal location adds to its allure, with pristine beaches nearby where couples can enjoy leisurely walks, sunset strolls, or even horseback rides along the shore. 
#2 Unsurprisingly, Hawaii had two destinations which came in the top 10. In second place came Paia. Located on the northern shore of Maui, Paia exudes a laid-back, bohemian vibe that sets it apart from the bustling tourist areas. Couples will find themselves enchanted by the town's charm, with its colorful storefronts, boutique shops, and unique art galleries. The pristine beaches of Paia, such as Baldwin Beach Park, offer a tranquil setting for couples to relax, soak up the sun, and enjoy romantic walks along the shore. 
#3 Hawaii's Hilo came in 3rd place overall. Nestled on the eastern coast, Hilo offers a more authentic and local Hawaiian experience. The town is known for its lush tropical landscapes, including stunning waterfalls, botanical gardens, and black-sand beaches. Couples can embark on romantic adventures such as visiting the magnificent Akaka Falls, exploring the tropical wonders of the Hawaii Tropical Botanical Garden, or taking a leisurely stroll along the picturesque Coconut Island. 
#4 Asheville in North Carolina was voted as the fourth most popular among couples. Nestled in the Blue Ridge Mountains, Asheville offers breathtaking views and a serene natural setting. Couples can explore the Blue Ridge Parkway together, embark on romantic hikes in the surrounding mountains, or simply relax and enjoy the tranquility of nature. The town itself is known for its thriving arts and music scene, with numerous galleries, studios, and live music venues.  
#5 Rounding up the top 5 came the relatively unknown Carmel-by-the-Sea in California. Located on the scenic Monterey Peninsula, Carmel-by-the-Sea offers a picturesque setting with its pristine white-sand beaches, rugged cliffs, and breathtaking ocean views. Couples can take leisurely walks along the beach, watch the sunset together, or even enjoy a romantic picnic by the sea. The town itself is known for its fairytale-like cottages, quaint streets, and storybook charm. 

The top 10 alternative romantic destinations for couples in 2023:

1.         St. Augustine, Florida
2.         Paia, Hawaii
3.         Hilo, Hawaii
4.         Asheville, North Carolina
5.         Carmel-by-the-Sea, California
6.         Pigeon Forge, Tennessee
7.         Durham, North Carolina
8.         Mackinac Island, Michigan
9.         Flagstaff, Arizona
10.       Manchester, Vermont

You can view the full list of alternative romantic destinations here.
"While iconic destinations in the likes of Florida, California and Hawaii steal the spotlight, there is a vast array of relatively undiscovered romantic getaways that offer unique and unforgettable experiences," says Dan Bagby of HoneymoonAlways.com