In an industry-defining move, Jackery, the renowned provider of portable and environmentally conscious power solutions, unveiled their latest innovation at the Intersolar Europe 23. The highly anticipated Jackery Explorer 2000 Plus, the first in a new series of solar generators, promises to revolutionize the way we harness and utilize clean energy.
With an impressive output of 3000 watts and a remarkable capacity of 2042 watt-hours, the Jackery Explorer 2000 Plus sets a new standard for portable power stations. This cutting-edge device offers expandability in 2 kWh increments, allowing users to scale up their capacity to an astounding 12 kilowatt hours by simply adding up to five battery packs. The inclusion of two rubberized aluminum wheels and an extendable handle ensures effortless mobility and handling of the power station.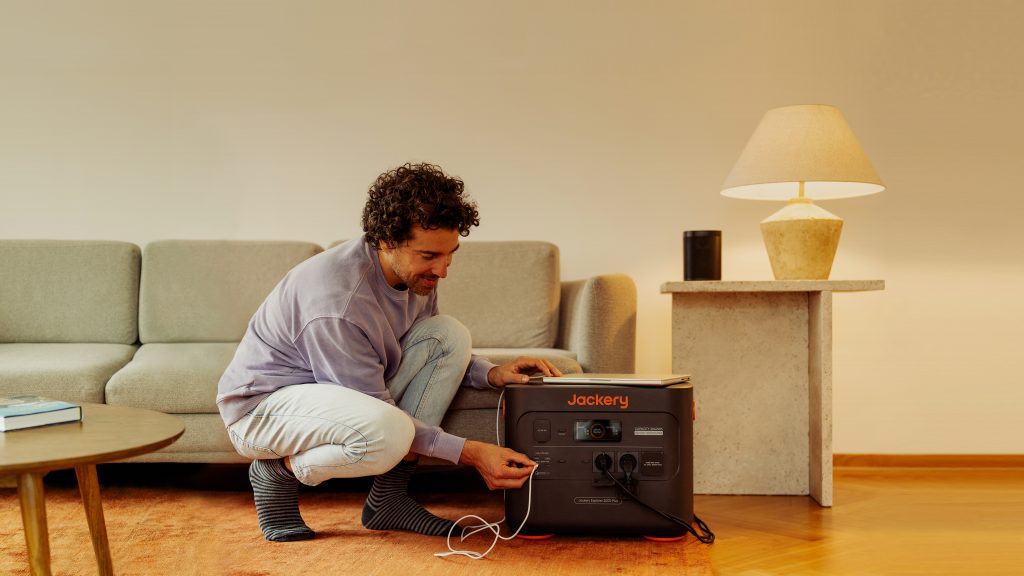 Harnessing the power of connectivity, the Jackery Explorer 2000 Plus offers users unparalleled control over their energy system. By utilizing the Jackery app via Bluetooth or WiFi, owners can remotely monitor and manage their power station, receiving real-time updates on its status. To celebrate the official launch, Jackery has announced an exciting promotion: customers who make a purchase between June 14-20, 2023, will receive a complimentary foldable SolarSaga 200W solar panel, enabling them to maximize their clean energy production.
One of the most remarkable features of the Explorer 2000 Plus is its remarkably fast charging capabilities. With a 230-volt connection, the power station can be fully charged in a mere 1.7 hours. When paired with six Jackery SolarSaga 200W solar modules, the charging time is reduced to an astonishing two hours. Furthermore, the cascading capability allows up to six modules to charge the 2 kWh battery packs in parallel. Alternatively, users have the flexibility to charge the battery packs directly from a plug socket or a 12-volt connection in a vehicle.
Thanks to the integration of advanced fast charging technology and an intelligent battery management system (BMS), the Explorer 2000 Plus ensures optimal efficiency and safety. Its graduated charging algorithms not only enhance safety but also extend the lifespan of the batteries by up to 50 percent. With an impressive endurance of up to 4,000 complete charging and discharging cycles (to 70 percent) and a projected service life of over 10 years with daily usage, the Explorer 2000 Plus sets a new standard for sustainability and reliability.
Jackery's SolarSaga 200W solar modules, boasting an IP67 weatherproof rating, provide a clean and reliable energy source independent of the public power grid. Incorporating innovative IBC technology with n-type solar cells, these modules exhibit exceptional efficiency, quickly unfolding to capture sunlight with a remarkable 25 percent conversion rate. Even under challenging conditions such as diffuse light or inclement weather, the portable solar modules generate up to 50 percent more electricity compared to conventional products. Additionally, a state-of-the-art MPPT solar controller ensures maximum solar yield, while 12 integrated safety functions safeguard against overcurrent, short circuits, deep discharge, overload, overvoltage, and overheating. Remarkably, all this is achieved with whisper-quiet operation, emitting a mere 30 dB in Quiet mode.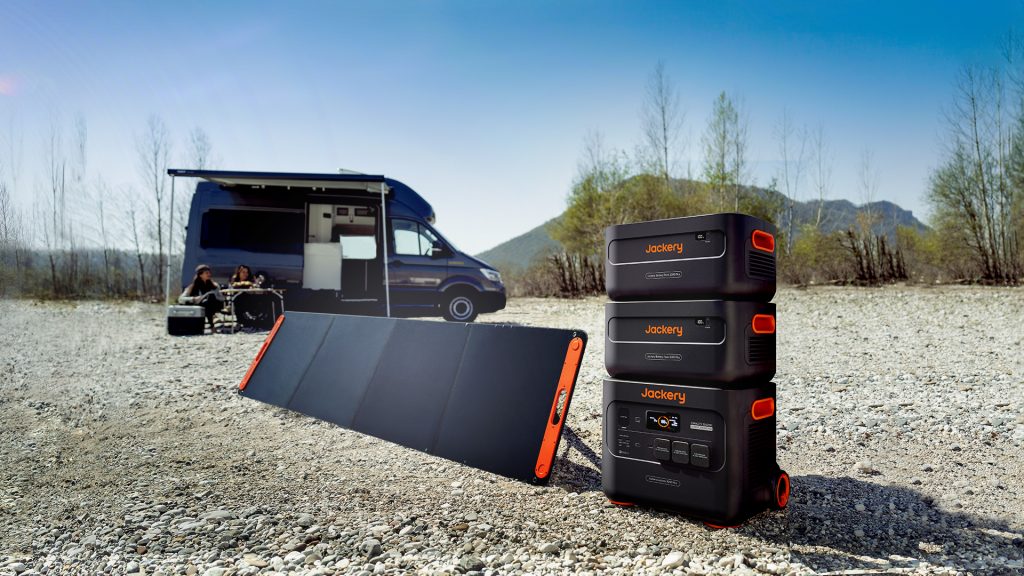 Boasting eight connections, the Explorer 2000 Plus provides an abundance of power for various electronic devices. With three Schuko sockets (230 volts), two USB-A ports (Quick Charge 3.0, 18W), two USB-C ports (100W), and a 12-volt socket, this power station offers versatility to support power-hungry consumers like power tools, air conditioners, and refrigerators. Whether camping, on a boat, or facing a sudden power outage at home, the Explorer 2000 Plus ensures a reliable energy supply for a wide range of electronic devices.
Designed for ultimate convenience, the Explorer 2000 Plus boasts a compact and mobile form factor, measuring 47.3 x 35.9 x 37.3 cm and weighing a manageable 27.9 kg. Its trolley format, complete with two wheels and an aluminum pull-out handle, allows for effortless transportation. Furthermore, the system's capacity can be expanded by up to five battery packs. By simply placing the small power packs, each with a capacity of 2042.8 Wh, onto the power station and connecting them using the provided DC cable, users can augment their power storage capabilities.
Exciting news for consumers eagerly anticipating the launch of the Jackery Explorer 2000 Plus is the pricing and availability details. Backed by a generous 5-year warranty, the power station will be available starting June 14, 2023, in three options: as a standalone Power Station, as a Solar Generator bundled with the SolarSaga 200W panel, and as discounted sets with Battery Packs. Interested buyers can make their purchase through Jackery's official website (Jackery.co.uk), Amazon.co.uk, and approved Jackery retailers.
The retail prices for the Explorer 2000 Plus and its accompanying components are as follows: the standalone power station is priced at an attractive 1,999 GBP, while the Battery Pack can be purchased separately for 1,399 GBP. For those seeking a complete solar generator solution, the Powerstation plus SolarSaga 200W module package is priced at 2,599 GBP. To commemorate the launch, Jackery is offering a limited-time promotion. Customers who purchase the Explorer 2000 Plus power station, the corresponding solar generator, or any of the kits between June 14-20, 2023, will receive a complimentary SolarSaga 200 solar panel, valued at 200 GBP.
As part of their commitment to provide reliable, clean, and accessible power solutions, Jackery continues to lead the industry with their innovative products. The Explorer 2000 Plus stands as a testament to their dedication to sustainable energy and user convenience. With its impressive capacity, unrivaled charging speed, and intelligent features, this modular power station is set to redefine portable power generation.
For more information about the Jackery Explorer 2000 Plus and its availability, customers are encouraged to visit the official Jackery website (Jackery.co.uk), browse through the selection on Amazon.co.uk, or inquire at their nearest authorized Jackery retailers.