Reality TV star Charlotte Dawson, who is pregnant with her second child, suffered a wardrobe malfunction while dancing on her balcony in Cala Bona, Majorca. The 30-year-old was wearing white bikini bottoms and a nude bra while dancing to Mathey's hit Ameyatchi.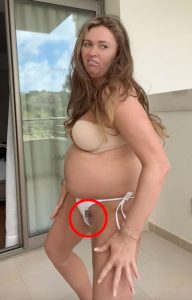 Despite her best efforts to hold them up, her bikini bottoms flapped open, and she nearly exposed herself to her 1.3 million Instagram and 518,000 TikTok followers. Charlotte, the daughter of the late comedian Les Dawson, was on a babymoon holiday with her fiancé Matthew Sarsfield and son Noah, two.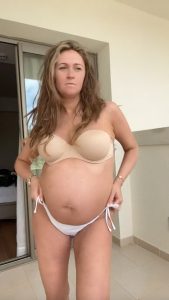 She later posted the video of the dance, joking that she nearly suffered a wardrobe malfunction, and that her followers almost saw what she had for an all-inclusive breakfast.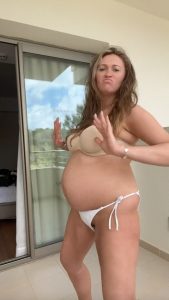 While some of her fans thought she just about protected her modesty, others were convinced that they had seen more than they bargained for. Some left comments like "I saw the kitty look me in my eyes," while others joked that they "literally got your flaps out." One fan even quipped that they "nearly saw you baby coming out of your noonie."
Despite the embarrassment, Charlotte took the incident in good spirits, and her fans continued to show their support for her.