Yarikazu Xipaya, a 22-year-old law student from Pará, Brazil, is using her heritage to create unique art and challenge stereotypes about her culture. Through an ancient painting practice that involves painting her own body and other items, Yarikazu is on a mission to educate people about her indigenous heritage and raise awareness of inequalities within her community. She has collaborated with a sustainable swimwear brand, MABI, to take a stand against the fashion industry's impact on climate change and indigenous communities.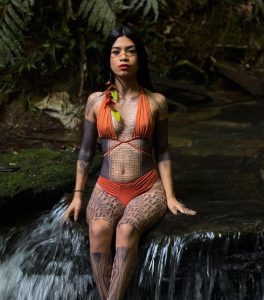 Using traditional methods and materials, Yarikazu creates intricate patterns on her body and other items, which have gained attention on social media. Her inspiration, she says, is to show the world that indigenous people are a culture and that the land is a living creature that must be respected and used in a sustainable way.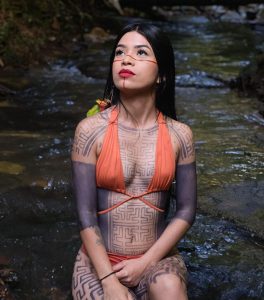 The painting technique involves harvesting the Jenipapo fruit, which is processed for two weeks before the color can be used as paint. For Yarikazu, the patterns represent a community dedicated to educating the world on sustainability and protecting the earth.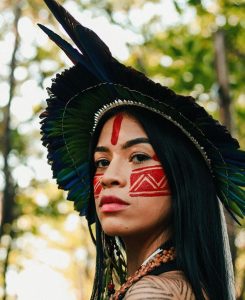 Yarikazu's interest in protecting the earth was sparked by losing familiar land due to the Belo Monte hydroelectric plant. As a member of the Xipaya and Juruna people, she sees painting as a form of resistance and a way to connect with her culture and ancestry.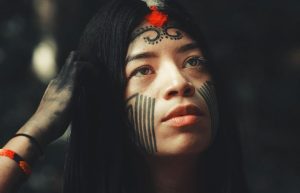 For Yarikazu, collaborating with MABI swimwear is a way to make people aware of the catastrophic consequences that the fashion industry can have on the planet. She believes that by buying MABI's sustainable products, people can help protect the forest and mother nature.
Through her art, Yarikazu is challenging stereotypes about indigenous cultures and promoting sustainable practices. Her work is a powerful reminder of the importance of respecting and protecting the earth, and the beauty and significance of indigenous cultures.