Suara AlaM, previously known as Samantha, has opened up about the unkind comments she receives online due to her striking appearance. The artist has inked most of her body in black as part of her body modification journey, which began when she covered both of her arms in black ink to help heal from her childhood experiences in a strict household.
Suara got her first tattoo of a lion at the age of 29 and eventually decided to take her transformation further by inking her neck, throat, chest, and back entirely black. She also has a unique scleral tattoo with purple eyeballs, stretched ear lobes, and several piercings, including her septum, nipples, and the bridge of her nose.
Despite loving her unique look, Suara has been subjected to cruel comments online, including someone telling her that the "world must be ending" because of her appearance. The 39-year-old from The Netherlands has been called out for cultural appropriation and "blackfishing" by some commenters.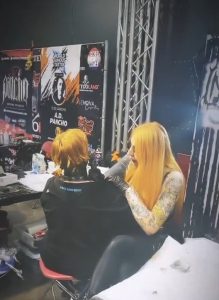 Suara, however, stresses that her body modification journey has nothing to do with offending anyone. "I hope there is understanding for the fact that my own journey has no goal to offend anyone in any way," she said. "As I don't want to disregard their feelings in any way, I can only say for myself, that I haven't started my blackwork journey because I want to have black skin. I get a dark grey or blueish tone after the tattoo has healed."
For Suara, her tattoos and body modifications have helped her on a spiritual level with past trauma. "In a spiritual sense, at least for me, going through this pain, where needles scrape old layers off of you, opening up the outside to let something inside of you out, helps me in my healing process of old wounds," she said.
Despite not having calculated the total cost of her look, Suara considers the modifications as part of her fashion style. Around 30% of her body is now covered in ink. Her favourite tattoo to date is her purple eyeballs, which she loves for their deep purple colour. "They say that eyes are the window to the soul — I do believe that my soul radiates in a lovely purplish colour," she said.
Suara, who is dedicating her life to healing others through sound in an off-grid yurt, hopes to share her journey to encourage others to try new things and take control of their own bodies and lives. "It feels like I can take back my own control of my own body, my own life, and this in itself is healing, while I could not do this in the past," she said.
In Suara's opinion, life should be about experiences that give you more than just money, including appearance. "Appearance is a lot more, in my opinion, than just body modifications or tattoos," she said. "I do this for me and not for the outside world."