Alhambra Designs, a British company founded by Ahmed Q, is experiencing remarkable growth since its inception. Inspired by the intricate artistry of the Moors in Andalusia, Ahmed's deep admiration for Islamic architecture has resulted in the creation of some of the world's most exquisite Islamic art reproductions.
The collection by Alhambra Designs encompasses contemporary masterpieces including wall art, architectural elements, and furniture, all inspired by the iconic Moorish architecture found in historical Andalusian landmarks. Catering to an esteemed clientele, which includes Middle Eastern Royalty and renowned interior designers, Ahmed crafts bespoke pieces. His designs grace mosques across the globe, corporate offices, and luxurious residences.
Karima Halhoul, the Director of the company, expresses enthusiasm about Alhambra Designs' progress: "We are excited to share the remarkable journey of Alhambra Designs. Starting as a modest Etsy shop crafting small gifts, we have expanded rapidly. Our inaugural UK project, Alhambra Home, involving complete interior design and the creation of artwork, is now finished. Our social media presence is growing swiftly, and we've broadened our offerings with distinct sub-brands – Casa, Morena, and Dulce. These encompass home decor, women's gold and silver jewellery, and delectable treats, all designed and developed by us."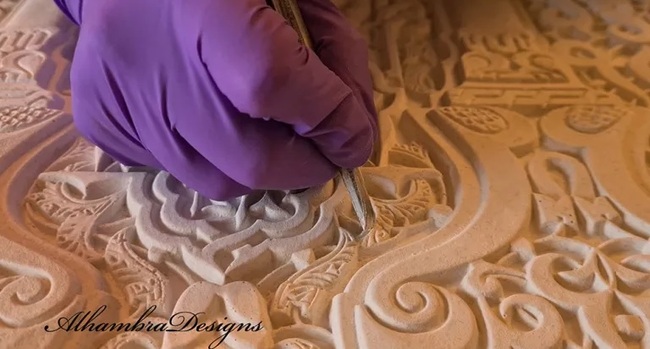 Introducing the Casa furniture line was a logical step for Alhambra Designs. Many discerning Arabian clients and London-based interior designers faced challenges in finding luxurious and high-quality Arabian and Islamic items for their homes. As the company began sharing examples of bespoke furniture requests online, the demand continued to increase. The expansion into jewellery and sweet delicacies reflects the desires of customers seeking products with an authentic Andalusian essence.
Ahmed creates his works while paying homage to the Creator, employing traditional techniques and genuine materials. He meticulously crafts each piece by hand, capturing the essence of Andalusia – a historical bridge between East and West, renowned for its role as a hub of cultural and social exchange during the golden age of civilisation.
Explore the diverse collection of bespoke Islamic art reproductions, furniture, jewellery, home decor, and delectable treats by visiting Alhambra Designs' website: www.alhambradesigns.com.