Just in time for summer: the UK's largest outdoor cinema provider has launched it's summer 2023 season with 270 cinema screenings in 74 gorgeous open air locations.
New venues have been announced, including: Cardiff, Nottingham, Ipswish, Worcester and Winchester
Adventure Cinema has kicked off its largest ever summer season with 270 cinema screenings at 74 nationwide wide venues. Stopping off at more picturesque venues than ever before – from Plymouth to London to Edinburgh and everywhere in between – new destinations include Cardiff, Nottingham, Worcester, Ipswich, Winchester, Nottingham and more.
This season, Adventure Cinema intends to make get everyone up and dancing beneath the summer sky, with Matilda the Musical, Mamma Mia!, The Greatest Showman Sing-A-Long and Grease. Further highlights include Top Gun: Maverick starring Tom Cruise, Elvis, Encanto, Dirty Dancing, Harry Potter and many more.
Promising a season of amazing experiences in the Great British outdoors, Adventure Cinema's 2023 season has started just as it begins to feel like summer.
Transporting award-winning and action-packed Top Gun: Maverick to magical locations, Adventure Cinema will offer film lovers the first chance to catch the 2022 film starring Tom Cruise in an al fresco setting. Also new to the tour is box office hit Elvis starring Tom Hanks and directed by Baz Luhrmann, who's previous work includes The Great Gatsby, Moulin Rouge!, William Shakespeare's Romeo + Juliet and more.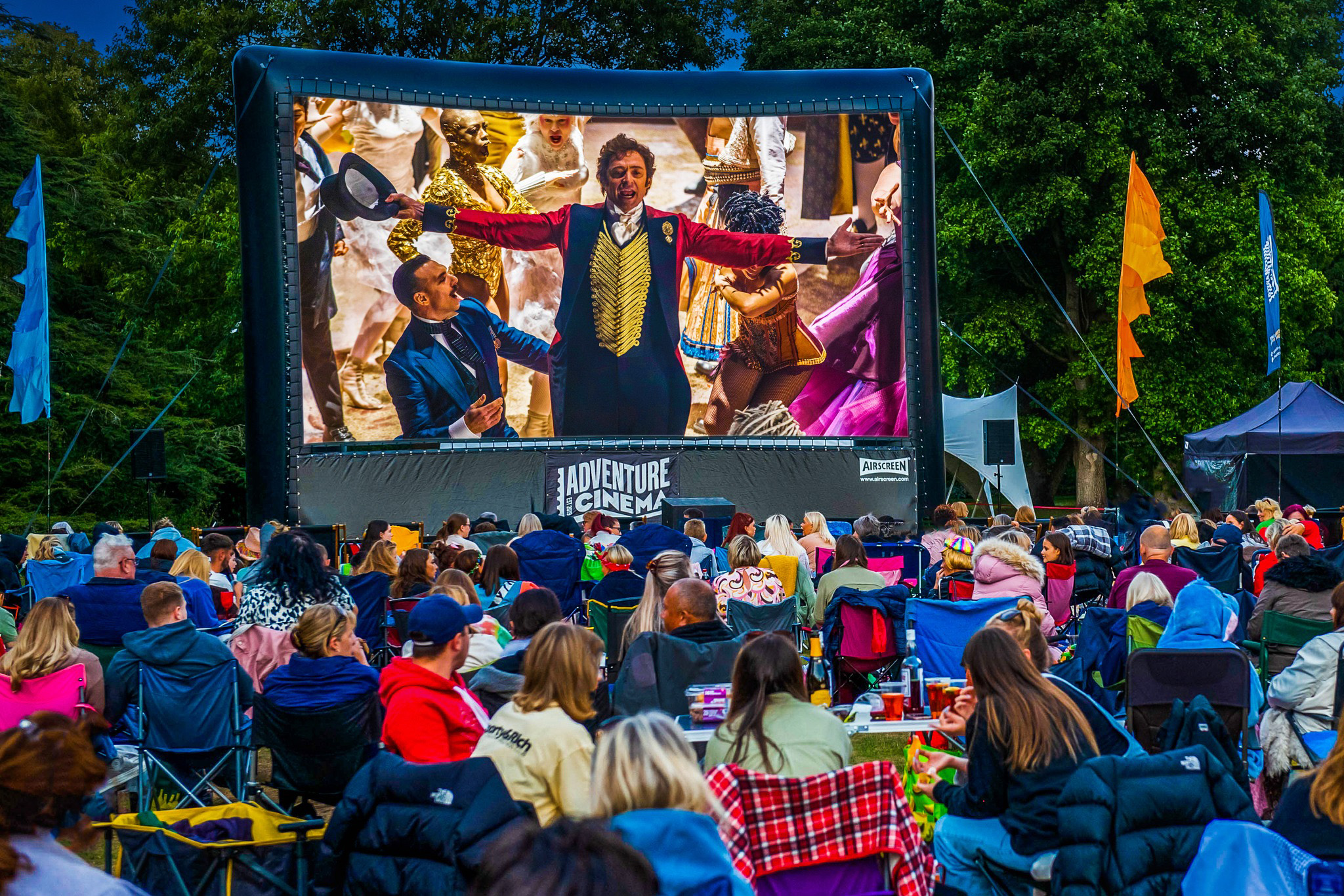 For families looking to spend time together, Adventure Cinema will host 17 screenings of the Disney movie Encanto, as well as Matilda, Harry Potter, Back to the Future, Grease and more. Those looking to have fun with friends as they sing-a-long can also book tickets for Dirty Dancing, The Greatest Showman or Mamma Mia!
With more stunning venues than ever before, including 19 National Trust sites, 24 Historic Houses, 5 Castles and many more, brand new destinations for 2023 include Victoria Embankment, Sophia Gardens, Croome Court, Christchurch Mansion, Avington Park and Sherwood Forest. Taking immersive cinema to a new height, Nottingham's Sherwood Forest will host a series of special screenings including Disney's Robin Hood, alongside its annual Robin Hood Festival, for a truly memorable experience.
Adventure Cinema also offers a variety of on-site food and drink options. Guests can enjoy the show with snacks, and those who fancy a drink can now also order from the new Magners bar at select venues nationwide, where they will also be able purchase an Oodie to get cosied up and watch the film in ultimate comfort.
Ben Lovell, Co-Director, Adventure Cinema, comments:
"We are so excited that summer 2023 has finally arrived. We will once again be travelling all over the country to put on the UK''s biggest ever outdoor cinema tour this summer, partnering with 74 unique and beautiful locations – and more than ever before! The list of films on offer is our best yet, with something for everyone and we can't wait to welcome those who love the cinema and the great outdoors."
Tickets for Adventure Cinema start from £9.50 + booking fee and are available now via: www.adventurecinema.co.uk
Movies being shown on the tour include:
Back to the Future, Cars, Elvis, Encanto, Dirty Dancing, Grease Sing-A-Long, Harry Potter, Mamma Mia!, Matilda The Musical, Pretty Woman, Sing, The Greatest Showman, Top Gun: Maverick, Twin Town
From breathtaking National Trust sites, to mediaeval castles, beautiful country estates and more, Adventure Cinema provides an unforgettable outdoor cinema experience.
For more information and to purchase tickets, visit: www.adventurecinema.co.uk