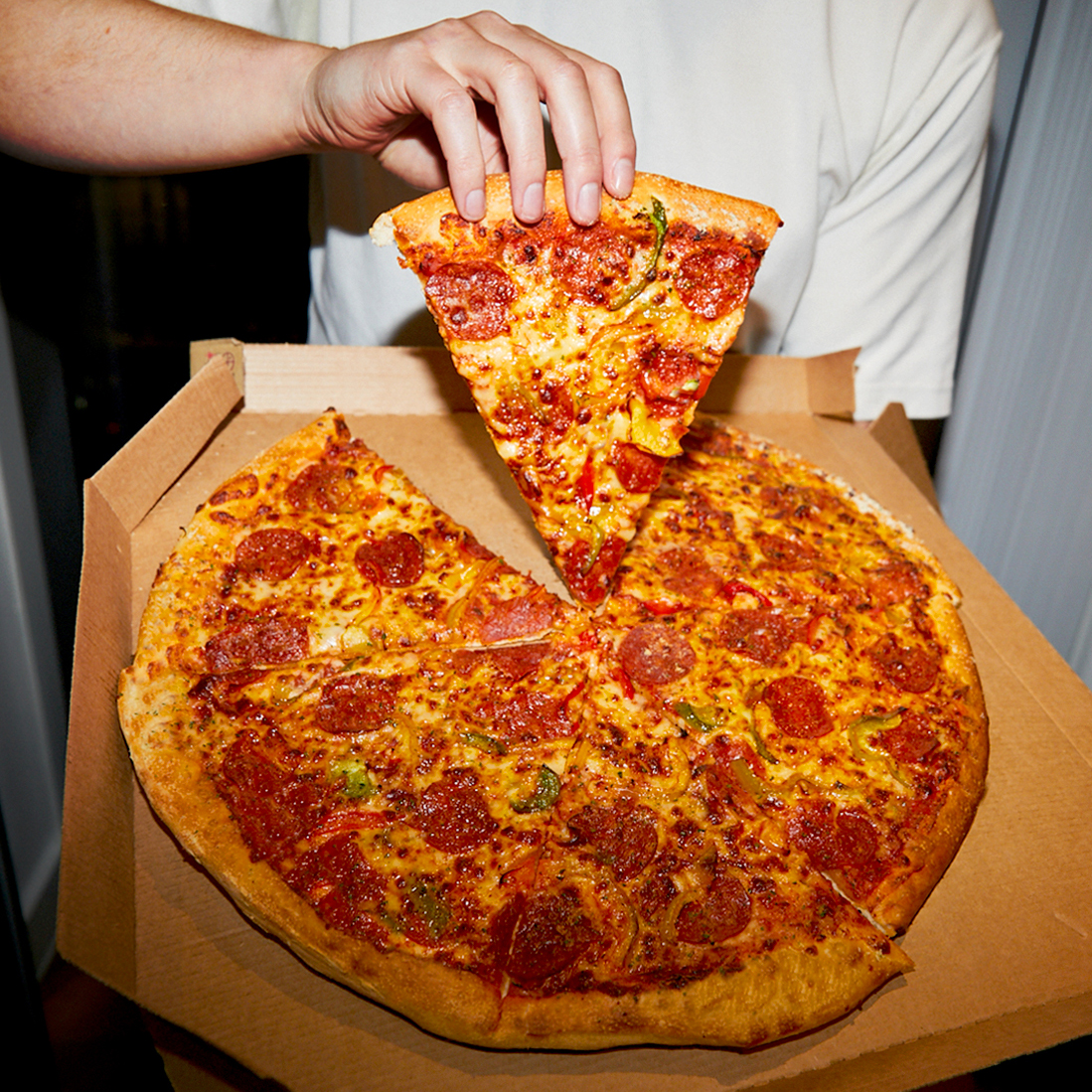 It's the news we've all been waiting for – Pizza Hut and Beyond Meat are rolling out a new Beyond Pepperoni® range in the UK this November.
A new plant-based pepperoni topping will feature on the Big New Yorker Pizza, Beyond Pepperoni® Feast Pizza, and Beyond Pepperoni® Melt.
The news will delight a nation of pepperoni-loving Brits, especially Gen Z with 80%* of them reporting that they'd love to try a plant-based version. Perfect option for those who want the pepperoni pizza experience but with the added lifestyle and environmental benefits of plant-based protein!
Beyond Pepperoni i offers the same taste, texture and flavour profile as traditional meat toppings and delivers a classic, mouth-watering pepperoni flavour, a meaty taste and perfectly crispy edges.
The new Beyond Pepperoni menu items include:
·  Big New Yorker: Pizza Hut's biggest-ever pizza topped with plant-based Beyond Pepperoni and oozing cheese, this 16" masterpiece is cut into six extra-large foldable slices.
·  Beyond Pepperoni Feast: Topped with plant-based Beyond Pepperoni, a burst of mixed peppers and mozzarella, this too-good-to-be-true pizza is available in all sizes and crusts.
·  Beyond Pepperoni Melt: Loaded with plant-based Beyond Pepperoni, a medley of mixed peppers & mozzarella cheese, this mouth-watering Melt is served alongside a marinara sauce for the ultimate dipping experience. Take lunch to a new level for just £6.99.
Hazell White, Head of Brand & Innovation at Pizza Hut UK & Europe, said: "We're so proud to be partnering with Beyond Meat again for the launch of our Beyond Pepperoni range. We've launched this in November so everyone can enjoy our great tasting pizza over the festive period, whether that's in our Melts or on our Big New Yorker."
Hameed Jagani, Vice President, Global Strategic Partnerships at Beyond Meat added: "With so many different tastes and dietary preferences, it can be difficult to find a satisfying and tasty pizza that suits everyone. With more and more British consumers looking to reduce their animal meat consumption, we're thrilled to offer a delicious, innovative plant-based pizza topping that will delight meat lovers, flexitarians and vegetarians alike. Our Beyond Pepperoni helps people continue to Eat What They Love™, without compromising on taste, a balanced lifestyle or the environment."
The new Beyond Pepperoni range is now available to order at Pizza Hut Deliveries across the UK, and will be available across all dine-in Pizza Hut restaurants from January 2024 for a limited time. Containing dairy based cheese, the pizzas will also available with a plant-based cheese topping at no additional cost.