A significant piece of history, presumed to be the last autograph of Martin Luther King, has been auctioned for £22,900 ($28,556).
This notable signature of King is found on a church bulletin.
Contained within is his final Sunday sermon, delivered at the National Cathedral in Washington, DC, USA.
Dated 31 March 1968, this document holds immense historical value, as it was signed just four days before King's assassination on a balcony.
Hake's auction house believes this autograph to be the final one from the esteemed civil rights leader.
Presented in a 10.75×13.75-inch frame, the church bulletin displays a picture of the cathedral's tower.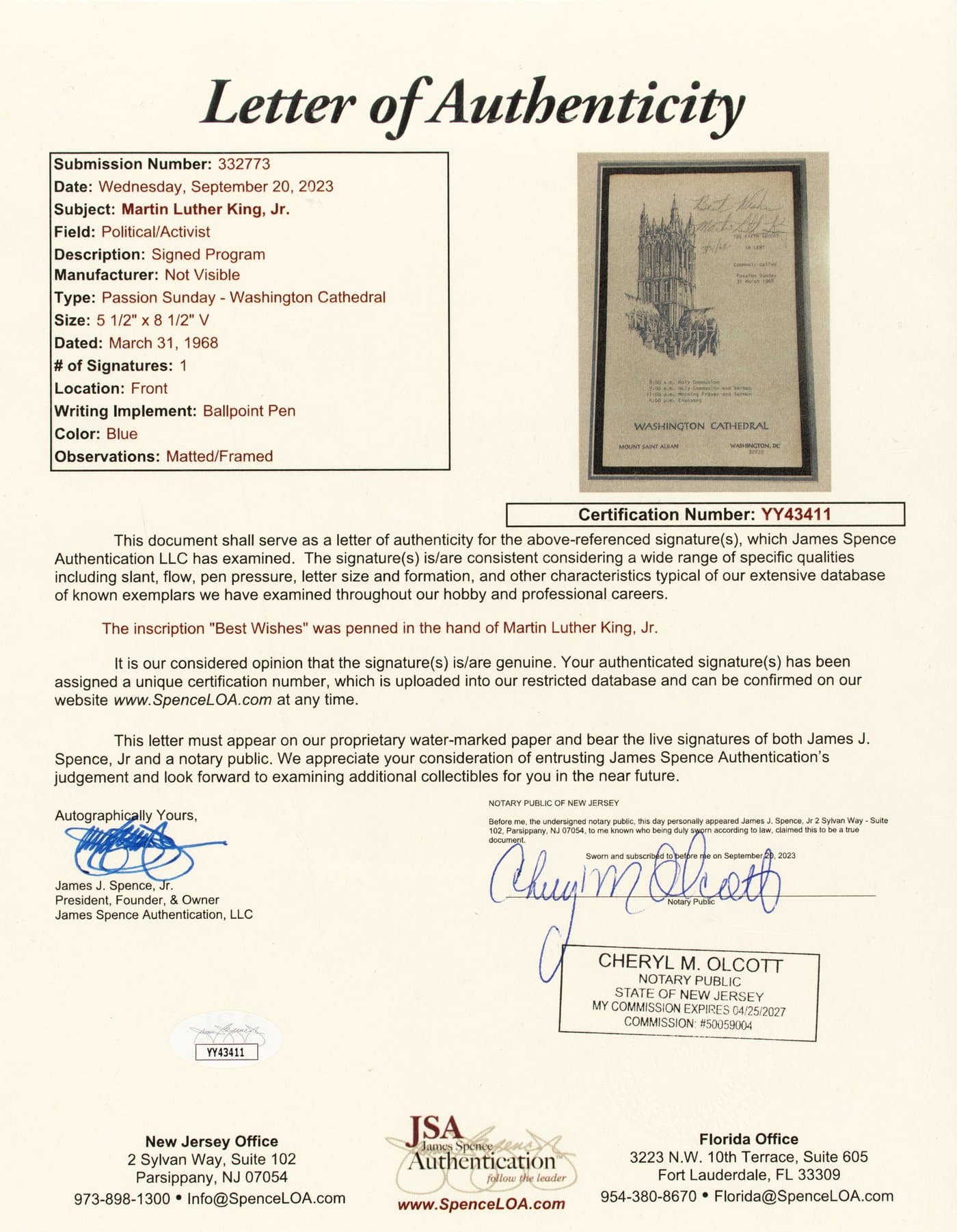 The front reads: "Passion Sunday 31 March 1968."
King's signature, "Best Wishes, Martin Luther King," is prominently featured at the top right of the page.
Although it shows faint signs of age along the top and right edges and has minor handling marks, its significance remains undiminished.
Accompanying the item are a JSA LOA and a letter from the consignor detailing how the autograph was acquired.
King's invitation to speak at the cathedral was part of an effort to alleviate tensions surrounding the imminent Poor People's Campaign.
Organized by the Southern Christian Leadership Conference, this campaign aimed at achieving economic justice, a critical aspect of the civil rights movement.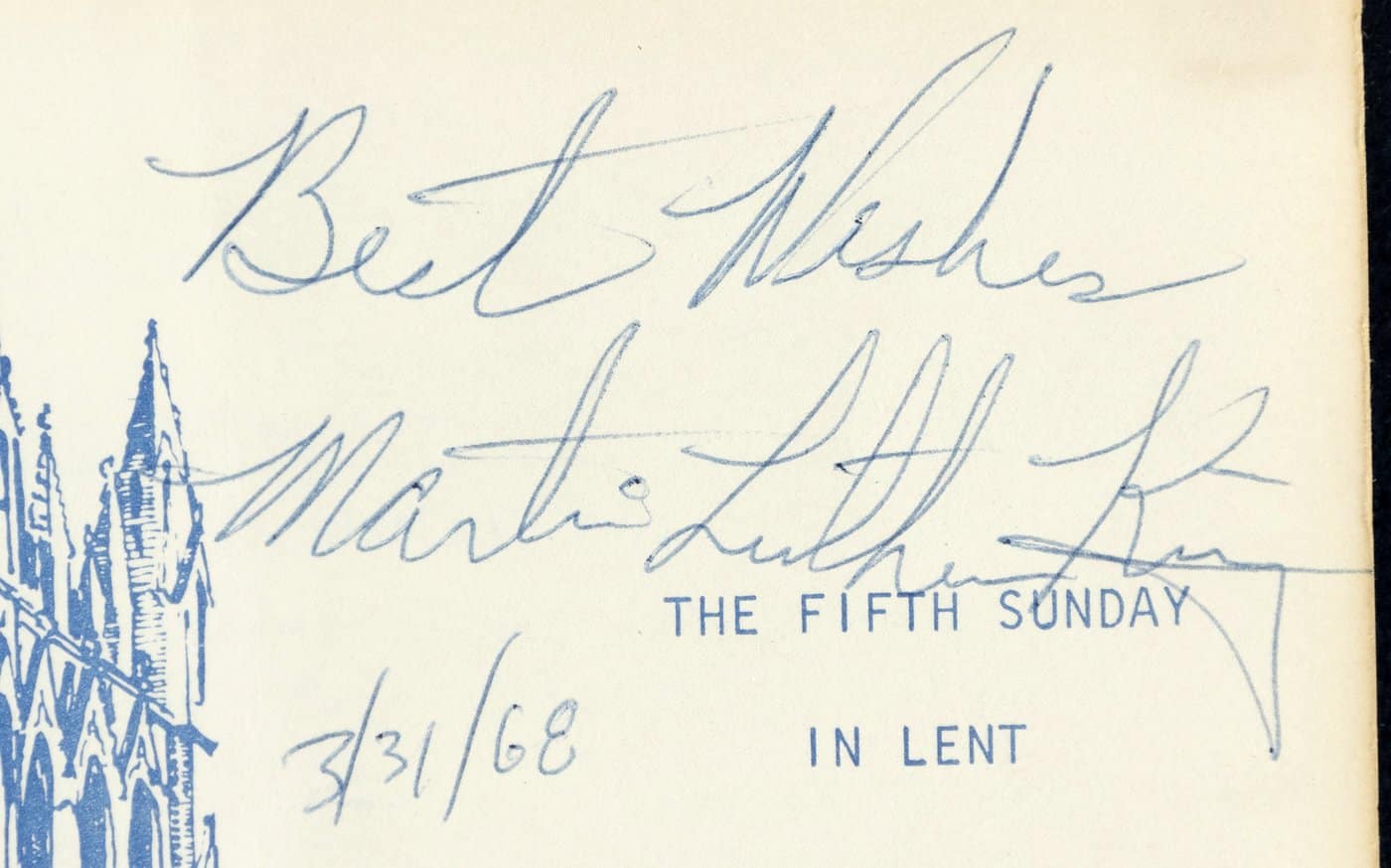 King's powerful words at the time were: "We believe the highest patriotism demands the ending of the war and the opening of a bloodless war to final victory over racism and poverty."
According to the auction listing, after leaving Washington, King spent two days in Bimini, near Florida, meeting Adam Clayton Powell and preparing his final speech, "I Have Been To The Mountain Top."
He briefly visited Atlanta before flying to Memphis on April 3, 1968, where he delivered his last speech at Mason Temple.
Exhausted, King returned to the Loren Motel for rest.
The next day, he was tragically assassinated on his motel balcony.
Given this timeline, the likelihood of additional autographs after this date is slim.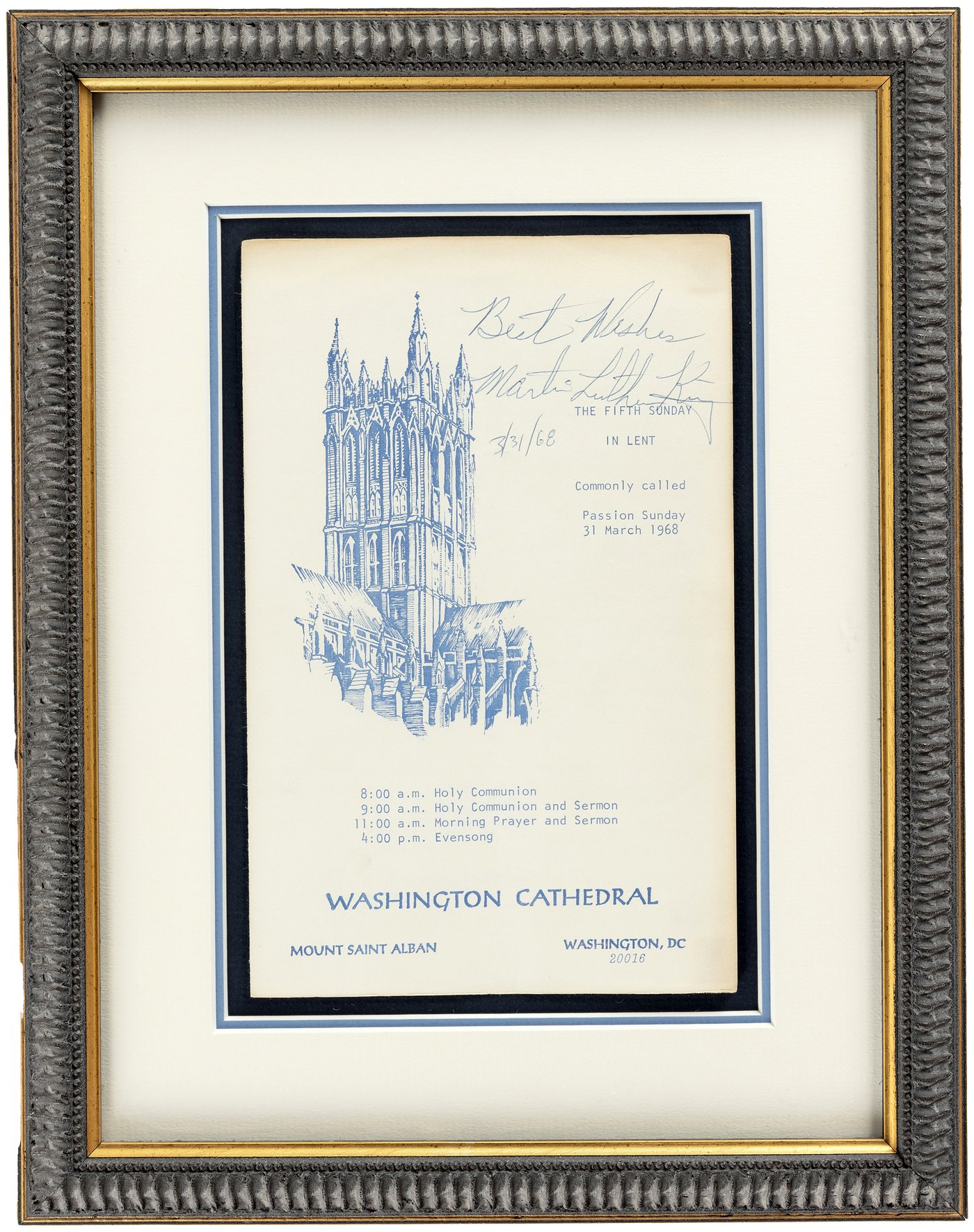 Research has not revealed any other signatures on this particular program from King's final Sunday sermon nor any autographs known to be signed later.
Thus, it is concluded that this is likely the last known autograph of King ever auctioned and indeed the previous known to Hake's auction house.
Disclaimers:
This content and images have been licensed to use by Jam Press, edited and syndicated by https://www.znewsservice.com/.
Should you have any questions relating to this content please get in touch with Jam Press via  https://www.jampress.co.uk/contact-us/