Momcozy, a brand committed to bringing the best comfort to mothers, today introduces the all-in-one M5 Wearable Breast Pump. For mums tired of feeling tethered to a breast pump, unable to complete even the simplest tasks while expressing milk, it's time to say goodbye to those cumbersome and restrictive pumping sessions and hello to the Momcozy M5 hands-free wearable breast pump. This game-changing device offers a level of convenience and comfort that every breastfeeding mother deserves. With its adjustable suction levels, all new "Baby Mouth" design, lightweight design, and easy-to-use features, pumping has never been easier. The M5 is available in single or double from 
Momcozy
 and 
Amazon
 for an RRP of £119.99 (Single) and an RRP of £199.99 (Double) and from 
Boots
 for £89.99 (Single) and £179.99 (Double).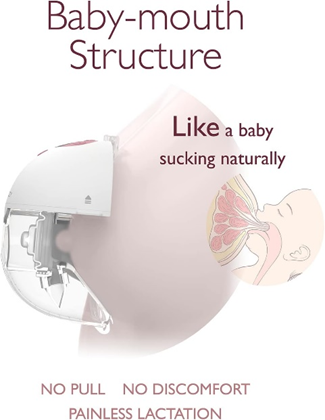 Unlike the majority of brands in the market currently, the M5 uses a new pump technology designed to suckle not pull. With its all new "Baby Mouth" design, Momcozy has identified the precise horizontal pumping angle to mimic the suckling angle of a baby and prevent upward or downward rough nipple pulling. This means painless pumping and more letdown and will be guaranteed to be much appreciated by mums. The double-sealed flange and ergonomic 105° breast wrap design also provide a comfortable fit, ensuring that mothers can pump for extended periods without discomfort.
Another new feature of the M5 is its vibrate-to-pump mode which loosens ducts at the same time as pumping to aid in faster milk removal and help mums who struggle to produce much milk. It also helps prevent painful conditions such as mastitis or engorgement. With three modes (Stimulation + Expression + Mixed) and nine levels, mothers can customise the pump to the preferred setting, ensuring efficient pumping every time. With the M5 mums can be assured of an absolutely smooth pump-out and downright drain-up every time.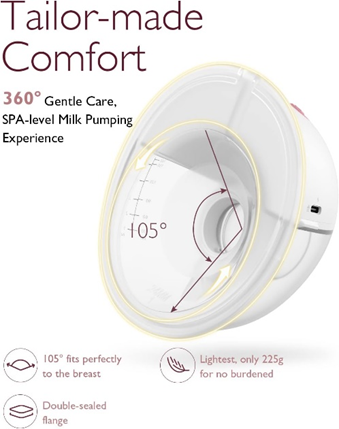 With this device, mums no longer need to worry about lugging around a large breast pump or finding somewhere private to express their milk. Instead, slip on the comfortable straps and begin pumping wherever, at home, work, or even running errands. Additionally, its small size, 230g and two thirds the size of normal pumps, and quiet motor noise level (less than 40 decibels) won't draw attention from those nearby when used in public places like restaurants or cafes. This pump offers a rechargeable battery that can give up to four hours of pumping in one go, perfect for busy mums who need multiple sessions during the day or night without being tied down by cords.
The M5 is also tailored to fit different breast shapes, with five sizes (17/19/21/24/27mm) to choose from. Made of zero BPA food-grade silicone, it is safe for both mother and baby. Additionally, the pump has minimal parts, making it easier to use and clean, allowing mothers to spend feeding life worry-free. Finally, the M5 is not just a functional device but also a stylish one. With four colours to choose from and an exquisite storage handbag, it allows mothers to be fashionable and cozy while enjoying the freedom to pump whenever needed.
The M5 is available in single or double from 
Momcozy
 and 
Amazon
 for £119.99 (Single) and £199.99 (Double) and from 
Boots
 for £89.99 (Single) and £179.99 (Double). It comes in a choice of colours which include Quill Grey, Cozy Red, Lilac and Mint.
About Momcozy:
Since 2018, Momcozy has been bringing the best in comfort to mothers with wearable breast pumps, nursing bras and other mum care products. Endorsed by 3 million mothers in over 40 countries, Momcozy is a companion to women from pregnancy to early motherhood. With continuous innovation and a commitment to creating cozy designs born from love, Momcozy is growing in reach and impact to make mums' lives easier around the world.