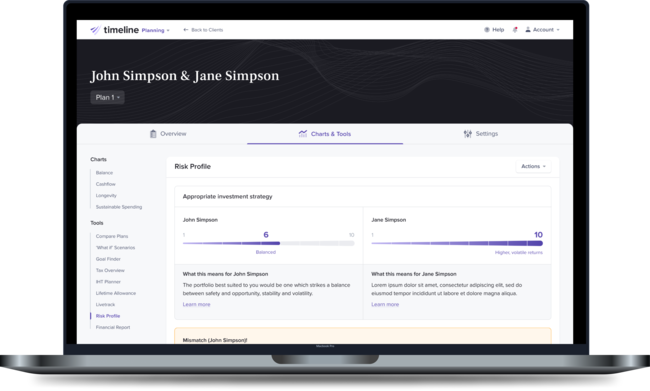 A leading UK fintech  has revolutionised the way financial advisors assess client risk with a state-of-the-art risk profiling tool which is quickly becoming a go-to choice in the UK
.
Timeline, who provide best-in-class planning technology and portfolio management services to UK financial advisers, has seen an impressive 400% increase in usage for the tool as well as an impressive 95% completion rate for client questionnaires in 2023.
The extraordinary adoption rate of Timeline's risk profiling tool is a testament to its unparalleled value in the financial advisory space. As more advisors throughout the UK experience the benefits of this cutting-edge tool, Timeline's reputation for innovation and excellence continues to grow exponentially. The business was recently shortlisted for Investment Tech of the Year in the 2023 European Fintech Awards.
Thomas Hogg, Head of Product, at Timeline explained, "The importance of accurately assessing a client's risk attitude cannot be overstated, as it is essential for making suitable investment recommendations and meeting compliance requirements.
Timeline's risk profiling tool addresses these concerns by not only providing more neutral and open-ended questions for more accurate answers but by visually explaining what risk means and what it looks like to clients. These enhanced features help set it apart from other software."
Timeline's Founder and CEO Abraham Okusanya remarked:
"Continuous innovation and investment in our technology is one of our key commitments as we help transform the financial advisory space. We are proud to be a trusted partner to so many financial advisers and to play a critical role in helping clients achieve their financial goals."

With a super user-friendly interface, and wealth of adviser-support resources, the tool integrates seamlessly with Timeline's suite of services, including fact-finding, risk profiling, cashflow modelling, and portfolio management. This streamlined workflow automates numerous tasks, reducing the need for manual data entry and increasing efficiency.
Gonzalo Podgaezky, Timeline's Product Manager, added:
"Timeline's risk profiling tool focuses on clear communication through visualisations, educating clients on investment risks while ensuring compliance which is ever-more  important with the advent of the FCA's Consumer Duty rules.
We worked directly with financial advisers as co-creators to develop and fine-tune the tool with more updates to the exact needs of the financial advisory market and ensure they can continue to deliver excellent results for their clients."
The recent updates to the risk profiling tool include:
Assessing risk for couples – This innovative feature enables advisors to better understand the combined risk tolerance of couples, ensuring that both partners' investment goals and concerns are addressed.
Enhanced algorithm scoring – Timeline's advanced algorithm now provides even more accurate risk scores, allowing advisors to tailor their recommendations to clients' specific needs.
Highlighting conflicting answers – By identifying inconsistencies in clients' responses, advisors can address potential misunderstandings and ensure clients are making well-informed decisions.
Overriding the risk score – Advisors now have the flexibility to override the calculated risk score once they have discussed it with their client and if they believe it does not accurately reflect the client's true risk tolerance.
A small number of places are available on a free trial offer for the tool. For more information on Timeline's risk profiling tool and how it can enhance your advisory practice, visit 
https://www.timeline.co/risk_profiling
About Timeline
Timeline's mission is to help 10 million people in the UK face retirement with confidence and revolutionising the financial planning industry with their innovative technology. Timeline does this by empowering UK financial advisers to deliver the best client investment outcomes through their adviser-exclusive and technically advanced financial planning (Timeline Planning) and model investment portfolio (Timeline Portfolios) operating system.
With a focus on providing financial advisors with innovative tools and services that streamline their workflow and enhance client experiences and a commitment to staying ahead of industry trends, Timeline is revolutionising the way financial advisors serve their clients.
Timeline's investment process is guided by a hundred years of empirical data, decades of academic research by renowned economists and the practices of leading institutional investors. Their technology and unique use of data combined with a  deep collaboration with financial planners provides a comprehensive range of
services that go well beyond 'just managing
money'.
Timeline's goal is to cut costs, inefficiencies and anxiety for financial advisers, while improving long-term investment returns for their clients. Firms can save up to £12.8m Investment fees per annum versus average Multi-asset OCF and DFM fees, resulting in huge savings in investment fee charges. These positive changes can be passed on to end-user clients by firms.
Timeline Portfolios ranked as UK's fastest growing Model Portfolio Service, both in terms of £m and %, according to research in 2022, and held the same status in 2021 (NextWealth MPS report 2021 & 2022).
About Timeline's CEO & Founder, Abraham Okusanya, MSc, Chartered MCSI.
After a stint at RBS, Abraham ran a consultancy that served financial firms including Aviva, AJ Bell, and Transact. He came to the conclusion that the way the industry does retirement planning and portfolio management "sucked", so he created Timeline to deliver positive change. He authored Beyond The 4% Rule, has written numerous industry papers and is in demand as a speaker, delivering talks to the FCA, ABI, PFS and financial professionals  and many others at conferences around the world. He presents the popular Podcast 'Retirementals' and co-hosts the Youtube Channel, 'The Investing Show'.
Company information: Timeline Portfolios Limited (RC 11557205) is authorised and regulated by the Financial Conduct Authority (number 840807).