An annual salary of $100,000 sounds like quite a lot of money, particularly when the average US salary is $53,490 per year. However, it is relative depending on your purchasing power. While San Francisco, for example, offers its residents a thriving arts & culture scene, glorious climate, an outdoor lifestyle, and world class restaurants, living in this California city comes with a significant price tag. Typical rents exceed $4,500, the average price of homes is $1.3 million, and to live comfortably, it is said you would need to earn $230k. 
So would living in some of America's most aspirational locations stack up if you were on a six-figure salary? Or would you prefer to live somewhere cheaper where, even if it offered less lifestyle options, you could get more bang for your buck? It's a question real time coupon and deals discovery site, CouponBirds, sought to answer, by surveying 3,000 respondents and asking them a hypothetical question: 
Which of America's 150 most expensive cities would you least like to live in, if earning a salary of $100,000?

Palm Beach, Florida, emerged as the least desirable city to live in when earning 'just' $100k. It appears that you have to have a Trump-style income to live here (his home, Mar Y Lago, is here), but $100k just won't cut it, thanks to its exclusive location, the high cost of real estate, high cost of goods and services, and high property taxes. It has more than the average share of luxury condos and homes, as well as plenty of upscale restaurants and retail outlets. And because the city has invested well in public services and amenities, to keep it looking pristine, the cost of living is higher here too. Suddenly that new salary doesn't seem as impressive…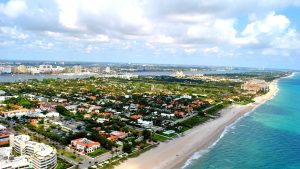 The second least desirable city was wonderful Wailea in Hawaii. Set on the dreamy island of Maui, it's where tourists and retirees alike flock for sunshine, sunsets, and giant tiki cocktails. Two factors make it particularly pricey – firstly, everything has to be imported, which makes goods and services more expensive, and secondly there is a limited supply of housing available. In addition, the cost of utilities, transportation and other necessities are generally higher in Hawaii than anywhere else in the US.
The 3rd least desirable destination in the US is Hilton Head Island. One of the main factors contributing to the high cost of living on the island is the limited availability of land. As a result, housing and property prices are high, and finding affordable housing can be challenging. It is also a popular tourist attraction, and the demand for housing and services from both tourists and year-round residents drives up the prices of goods and services. 
Following closely in 4th position came Isle of Palms, a small, affluent coastal city located in South Carolina. Its high cost of living can be attributed to a number of factors. The city is a popular vacation destination, and as a result, there is high demand for real estate. This demand, combined with limited space for new development, leads to high housing prices. In addition, the cost of living is driven up by the high quality of life that the city offers. The city boasts beautiful beaches, a mild climate, and a range of recreational activities. These amenities come at a cost, with prices for goods and services being higher than in many other parts of the country. Finally, residents of Isle of Palms often commute to Charleston for work or entertainment, and the cost of living in Charleston also spills over into the surrounding area.
The survey (via QuestionPro) found that New York City came in as the fifth least desirable city to live in. It may be the city that never sleeps, but if you can't afford to take a decent bite out of the Big Apple – Broadway shows, cocktail bars, hip restaurants – then there's not much point living there. It's frequently ranked annually as the world's most expensive city, and despite being such a huge hub for tourism, culture and business, you would have to earn well over $100k a year to actually enjoy it properly. Property is in high demand and short supply, driving up prices, too.
CouponBirds put together a full list of the 150 Least Desirable Cities To Live in (On a $100k Salary) which you can view here.