A well-heeled couple is on the hunt for a chauffeur to cater to their transportation needs, with one unique requirement – applicants must possess the skill to drive not one, but two Rolls Royces.
The selected candidate will enjoy an annual salary of £70,000, though the job comes with a rigorous 59.5-hour workweek. Duties will include chauffeuring the couple's six-year-old daughter to and from school, as well as escorting her to various after-school activities. Additionally, the family has a newborn, so the chauffeur will be responsible for safely stowing the baby's pram in the car.
The chauffeur's responsibilities extend to driving the wife to her daytime appointments and engagements. Keeping the opulent vehicles in pristine condition is also part of the role, including refueling and ensuring their immaculate appearance.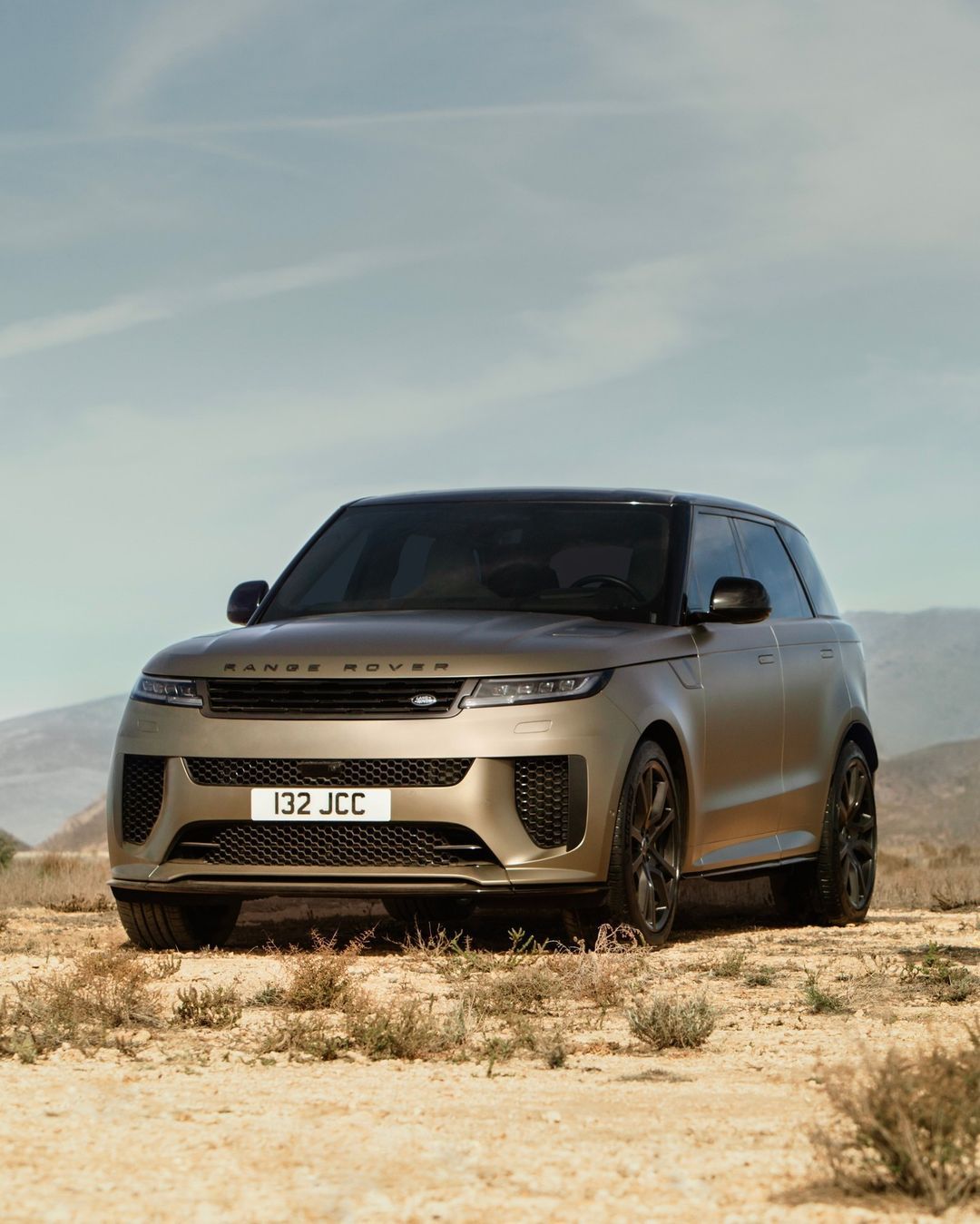 Residing in the upscale neighborhood of Mayfair, west London, the family boasts not only the two Rolls Royces but also a brand-new Range Rover.
The working hours are from 7:30 am to 6 pm, Monday to Friday, with additional duties on Saturdays from 9 am to 4 pm. Sundays are the only day off, with some potential travel to the United States and the Middle East.
The advertisement posted on Eden Private Staff outlines the role: "A fantastic opportunity awaits an experienced chauffeur with proficiency in handling Rolls Royce and Range Rover vehicles. A Mayfair-based family is seeking a seasoned and professional chauffeur primarily to assist the female principal and her two children, aged six and a newborn."
Specific duties encompass: "Conducting school runs for the eldest daughter and ensuring her attendance at various activities, transporting the principal to her appointments and engagements, loading the car with the pram and any luggage, and managing household errands. Additionally, overseeing the maintenance and refueling of the family's vehicles, which includes two Rolls Royces and a new Range Rover. On occasion, accompanying the principal to and from her destination."
Candidates are expected to: "Possess prior experience as a chauffeur, along with an extensive knowledge of London, particularly within a five-mile radius of Mayfair, Belgravia, and Knightsbridge. Demonstrated proficiency in operating Range Rover and Rolls Royce vehicles in previous roles is an absolute necessity. The ability to collaborate effectively with the house manager and housekeeper is crucial. Safety awareness is paramount, especially given the high-profile area of Mayfair, with careful attention to vehicle placement and vigilance during loading/unloading. Experience in close protection or security is highly desirable. Impeccable grooming and adherence to proper chauffeur etiquette are expected. The dress code entails a suit and tie. Attention to detail is paramount, encompassing presentation, cleanliness, and thorough sanitization of the vehicle's interior and exterior. The principal seeks a reliable, punctual, and exceptionally professional candidate."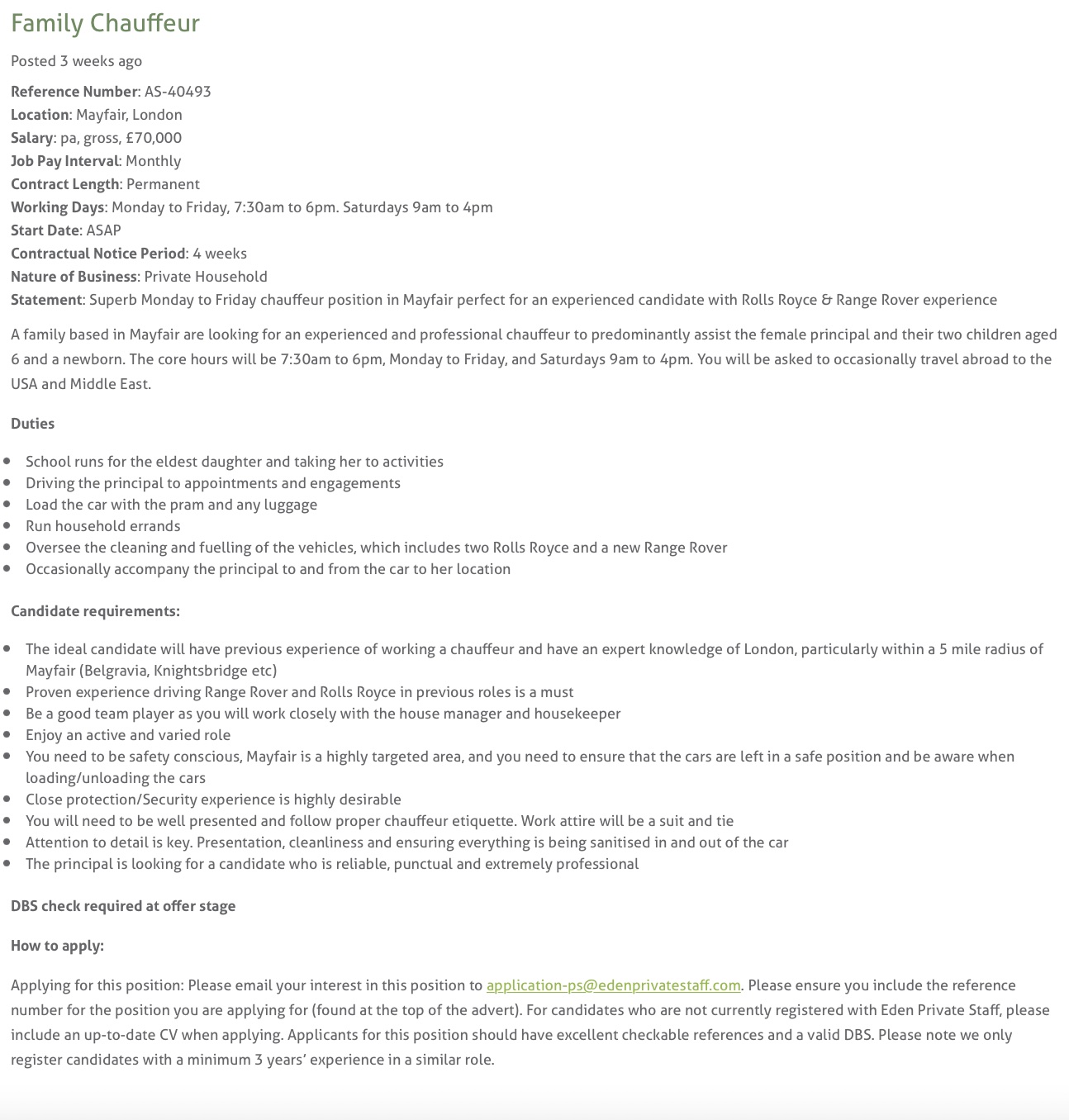 In conclusion, this position offers a unique opportunity for an experienced chauffeur to provide top-notch service to an affluent family, complete with the challenge of driving and maintaining two Rolls Royces.