In Mexico, law enforcement officials have confiscated a teddy bear that was discovered to be filled with drugged cough syrup. The plush toy contained a bottle of 'Purple Drank,' a liquid drug commonly composed of prescription-grade cough syrup, codeine, and a soft drink. This recreational substance is also known as Lean and poses serious risks, as the opioid codeine can lead to addiction and potentially fatal outcomes.
The teddy bear was found by Mexico's National Guard in Culiacán, situated west of Monterrey. It had been intended to be dispatched through a courier service to Tijuana. Upon inspection, officers uncovered ten small vials of the drug concealed within the toy.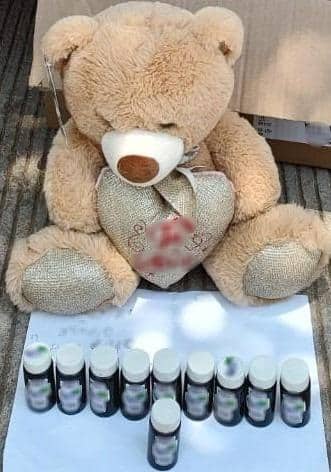 The alertness of sniffer dogs stationed in a mailing service office in Culiacán played a crucial role in identifying the bear within a cardboard box.
A spokesperson for Mexico's National Guard stated, "The seized narcotic substance, along with the teddy bear, has been handed over to the Federal Public Ministry Agency in the region. There, precise determination of the substance type will be conducted as part of the ongoing investigation. By taking these actions, we prevent this type of narcotics from reaching Mexican youth and jeopardizing their holistic development. The National Guard continues to contribute to the Government of Mexico's mission to ensure the peace and security of the population."
This seizure serves as a reminder of the constant vigilance required to combat the illegal drug trade, particularly when substances are being concealed in seemingly innocent objects. Authorities remain committed to safeguarding the well-being and future of the nation's youth by diligently preventing the distribution of harmful narcotics.