Marks & Spencer (M&S) is facing criticism over its newly launched fried breakfast, which includes what appear to be boiled eggs on the plate. The meal, set to feature on menus from Wednesday (10 May), consists of two sausages, beans, two hash browns, toast, bacon, and mushrooms.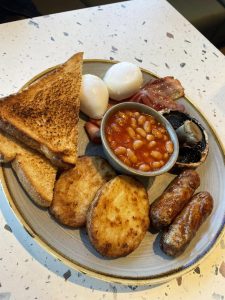 Customers have taken to social media to question the decision to serve boiled eggs with a fry-up and not in egg holders. They note that the eggs are still in an oval shape like a boiled egg and not flatter like a poached egg.
The English Breakfast Society, a pressure group, specifies that eggs for a traditional English breakfast should be scrambled, poached, or fried. Some customers have likened the boiled eggs to plastic.
M&S plans to serve the new "Big Breakfast" at its stores across the UK, along with "The Big Veggie Breakfast." A spokesperson for the Parc Llandudno shop in Llandudno, near Bangor, north Wales, announced the arrival of the breakfast menu, which includes the new dishes.
M&S has not commented on the backlash.