The lifeless body of a teenage girl has been discovered inside a shopping trolley, which had been discarded alongside wheelie bins.
Michelle Maria Causo, who had recently celebrated her 17th birthday, was allegedly murdered by a boy of the same age.
Local reports suggest that she was fatally stabbed multiple times, with at least six stab wounds inflicted upon her.
Her body was reportedly wrapped in bin bags and placed inside the shopping trolley.
The incident occurred on 28 June in the Primavalle neighbourhood of Rome, Italy.
Authorities were alerted when a resident noticed a suspicious teenager pushing a stuffed shopping trolley towards the bins at approximately 4 p.m.
Upon arriving at the scene, officers discovered the victim's body inside the abandoned trolley.
Later that day, the police arrested a 17-year-old Italian national of Sinhalese heritage in connection with the crime.
Upon searching the suspect's residence on Via Giuseppe Benedetto Dusmet, located nearby, investigators reportedly found bloodstains in the corridor and on the stairs.
Forensic experts collected evidence at the scene and interviewed the suspect's neighbours.
Some witnesses claimed to have heard an argument followed by screams emanating from the suspect's flat.
It is believed that the suspect and the victim, who had a Romani background, were in a relationship at the time of the alleged crime.
Contrary to initial reports, authorities confirmed that the victim was not pregnant at the time of her death.
However, the motive behind the suspected murder remains unclear at present.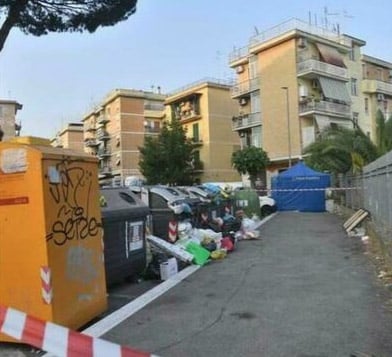 Roberto Gualtieri, the mayor of Rome, expressed his deep sadness on Facebook, saying, "I am deeply saddened by the brutal murder of Michelle Maria Causo, a young girl of only 17, who was horribly killed in Primavalle. Michelle, as described by friends and acquaintances, was a cheerful girl who loved life and learning, and was known by everyone in the neighborhood. It is unfair that her life was taken in such a brutal manner. In this moment of grief, I want to express my sincerest condolences to her family, friends, and all those who loved her."
The mayor also added, "We strongly condemn gender violence in all its forms. We must all redouble our efforts to combat it, prevent it, and support women who are victims of it."
The investigation into the case is ongoing.