A 17th-century former farmhouse in Bristol is on the market for £400,000, but what sets it apart from other properties is the fact that it has a boat in one of the bedrooms. The Grade II Listed property is being sold by Purplebricks and advertised on Rightmove.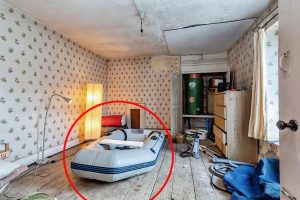 The rundown property, which is split over three floors and has a cellar, requires renovation. The living room and dining room are cluttered, the kitchen needs a lick of paint, and the doors and frames require attention. The property comprises six bedrooms, a kitchen, a living room, various utility rooms, and a cellar. It also has a garden and rear courtyard.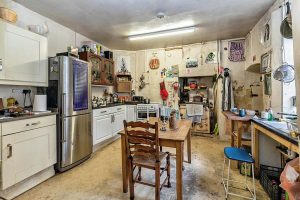 On the first floor, there are four decent-sized bedrooms, and another two on the second floor. One of the bedrooms has a double bed and a triple bunk bed, offering lots of sleeping space. However, one of the bedrooms has a grey, rubber dinghy in the middle of the floor, along with a chest of drawers. It is the only piece of furniture in the room, and there is no carpet. The room also contains two lights and some junk, including paint pots.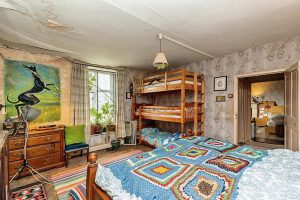 According to the property listing, the farmhouse is an iconic and beautiful building at the heart of the farm, but it will need renovating to make it habitable. It is believed to have been constructed in the late-seventeenth or early eighteenth century. The property is Grade II listed, which means that it is of special architectural or historic interest.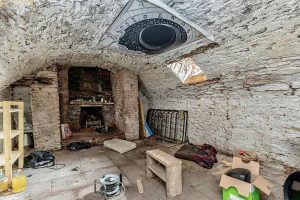 Home hunters browsing Rightmove have been left baffled by the boat in the bedroom, with one joking that it's always interesting to browse Rightmove. While the property requires some work, it offers a unique opportunity to own a piece of history with an unusual feature.