Calling all renovation enthusiasts and DIY heroes! This summer, get ready to power up your projects like never before with the incredible Jackery Explorer 2000 Plus, the ultimate mobile, green power station that's set to revolutionize the way we tackle home improvements.
Say goodbye to frustrating power shortages on site, as the Jackery Explorer 2000 Plus comes to the rescue with a whopping 2042 watt hours of power, guaranteed to keep your tools running all day long. But wait, there's more! This powerhouse can be expanded up to a staggering 12 kWh with up to five battery packs of 2 kWh each. It's like having a pocket-sized power plant right at your fingertips!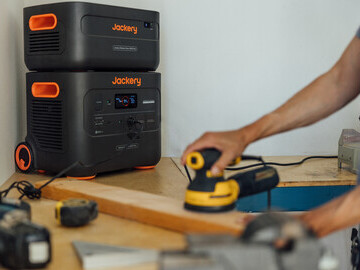 Imagine having the freedom to work wherever you want, without being tethered to noisy and smoke-belching petrol generators. With the Jackery Explorer 2000 Plus, you can harness the sun's energy to charge its independently solar-chargeable battery packs. Thanks to the foldable SolarSaga 200W solar panels, your power supply remains steady even when the LiFeP04 battery of the station is running low.
But it's not just about raw power – the Jackery Explorer 2000 Plus has versatility in its DNA. It boasts eight connections to meet all your energy needs, including three Schuko sockets (230 volts), two USB-A (Quick Charge 3.0, 18 W), two USB-C (100 W), and a 12-volt socket. It's like having a portable energy hub at your command!
Charging the Explorer 2000 Plus is a breeze too. Whether you're on the go or parked up, you can recharge it in your car via a 12-volt plug, or if you're in a hurry, simply plug it into a 230-volt connection for a quick 1.7-hour power-up. For the eco-conscious among us, six Jackery SolarSaga 200W solar modules can fully charge it in just two hours. Plus, with Bluetooth and WiFi connectivity, you can control the entire system right from your fingertips using the user-friendly Jackery app.
Now, here's the cherry on top – sustainability! The Explorer 2000 Plus comes equipped with an intelligent battery management system, ensuring safety and extending battery life by up to a jaw-dropping 50 percent. With a remarkable 4,000 complete charge and discharge cycles (to 70 percent), this power station is in it for the long haul, promising a service life of over 10 years with daily use. Talk about an eco-warrior!
Oh, did we mention it's incredibly mobile too? Picture this: a sleek trolley format, two sturdy tires, and an aluminum pull-out handle – it's power on the move!
Ready to take your DIY game to the next level? The Jackery Explorer 2000 Plus is available as a standalone power station, a solar generator with panel, and in discounted sets with battery packs. You can grab yours from uk.jackery.com, Amazon.co.uk, and specialty retailers.
Prices start at just £1,999 for the Explorer 2000 Plus, £1,399 for a battery pack, and £2,599 for the solar generator with the power station plus SolarSaga 200W module. Plus, you get a generous five-year warranty to sweeten the deal.
So, DIY aficionados, say hello to the future of on-site energy with the Jackery Explorer 2000 Plus – your new partner in power, sustainability, and endless possibilities! Get yours today and let your projects shine brighter than ever before. Happy renovating!