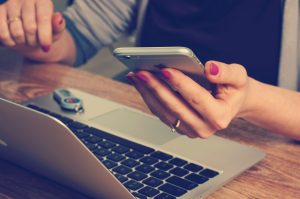 Affiliate marketing is worth a whopping $17 billion this year, but that figure is predicted to soar to $27.78 billion by 2027, which is a 91% increase from 2020.  
Already, 84% of brands have affiliate marketing programs, where they give independent digital marketers or content creators a personalised link and they earn commissions through any sales bought through that link. Even stalwart brands such as Walmart and Target have affiliate marketing programs.
Health and wellness and travel are two of the most popular affiliate marketing niches, but the apparel sector accounts for a quarter of all affiliate marketing programs. Commissions range from a few per cent up to 50%, dependent on the brand and the product. The higher the commission, the less product affiliate marketers have to sell to make a good income.
Amazon is the biggest online marketplace in the world, and it has an affiliate program. The commissions are not the highest, but it will depend on the products you choose to promote and with the volume of traffic and sales on Amazon every day, affiliate marketers have nothing to lose.
Here are the top 11 highest paying affiliate marketing products.
7 Figure Accelerator
7 Figure Accelerator is an incredible product that pays up to 50% commission – $1,000 or more per sale. The huge plus point is that it teaches complete beginners how to be successful affiliate marketers while making money. Plus it will help seasoned pros take their affiliate marketing businesses to the next level. It gives a step-by-step guide on what to do and how to make a good income in the industry. It offers a comprehensive starter guide and ongoing weekly live trainings from affiliate marketing experts, covering everything from mindset to content creation and the latest tips and tricks. Coaches will even come online and review and critique social media platforms to help members become successful. This shows digital marketers how they can create a million-dollar online business without even showing their face, if they don't want to. This is a 90% set up and ready to go business, so it is perfect for new starters in affiliate marketing who don't know how to set up funnels and email campaigns.
2. ClickFunnels 
ClickFunnels is a website and sales funnel builder for entrepreneurs. Any digital marketer needs a system to be able to create landing pages, capture the email addresses of potential customers or clients and keep in touch with them through targeted email campaigns. ClickFunnels is basically that system.
It offers monthly or annual payment plans and affiliates will earn up to 40% commission on any subscription. ClickFunnels is considered the gold standard in digital marketing. It has several products and affiliate marketers can earn commissions on all of them.
3. Aweber
Aweber is one of the world's leading email marketing software products, which has been around for more than 20 years. It specialises in helping small to medium businesses set up email marketing campaigns. It can be used as a stand-alone tool or synced with your ClickFunnels sales funnels account. Aweber is easy to use and the diligent support team are extremely responsive, so can help even the most inexperienced beginner get set up.
4. High Life Travel
High Life Travel is the world's first prepaid travel savings product and a private closed booking system. Customers can buy a range of packages from $199 to $799 and qualify for between $1,500 and $10,000 of savings on hotel and holiday bookings. Savings can be used at the customer's leisure as they never expire and there are no monthly fees. It is free to register as an affiliate for this product and you earn between $40 and $220 per product. As an affiliate of this brand, you also have access to hundreds of other affiliate marketing products in the health and wellness, personal care, automotive and apparel markets.
The travel portal gives customers access to more than 800,000 hotels and resorts around the world. They can also save on flights, car rentals, cruises, nights away and popular tourist attractions. All bookings are ATOL protected.  
5. LivPure
LivPure is a phenomenal weight loss support product made from five super nutrients. It is a proprietary liver fat-burning complex that is designed to boost metabolism and support healthy, sustainable weight loss. The average commission on this product is $134 with extra commissions every time someone reorders. All affiliate marketers have to do is promote the product and drive people to their link. The company has set up an incredible sales funnel with a comprehensive and informative video, details for ordering, upsells and connection to an email campaign further promoting the product. This is an excellent product for those in the health and wellness niche.
6. Amazon
Amazon is the world's biggest online marketplace and is the perfect place for affiliate marketers to makes some money. The commissions are not the best in the industry, but it does depend on which products you decide to market. For example, you don't need to sell very many 108-inch GTUOXIES TVs at $9,800 to make a good monthly profit.
 7. Garmin
Garmin is one of the most admired sports and multi-sports watch and activity tracker brands. There are a range of products that are extremely popular in the running, cycling, swimming, golfing and triathlon worlds that would suit an affiliate marketer who is looking to specialize in health and fitness. The Enduro 2 is a great example. Commissions are between 2% and 8%, but with a niche market of sports people, this could be an excellent earner in a very committed and loyal market.
 8. Stereo VPN
Stereo VPN is available through the highly popular affiliate marketing site Digistore 24. The product gives all android phone users access to a high quality VPN service and all affiliates get 80% in commissions.  
 9. Luxury Card
There are several credit card affiliate programs that could have been featured when looking into high ticket affiliate products. Luxury Card offers $405 in commissions for referrals. It gives customers air miles, access to airport lounges, a 24/7 concierge service and other travel perks.
 10. Amazon Massage Chair
This Massage Chair Recliner is another great example of a high-ticket item in the Amazon Affiliate Program. This chair is available for $47,000 and will bring in more than $2,000 in commissions.  
 11. Christian Dior
The designer fashion brand Christian Dior is another very famous affiliate marketing program. They offer up to 12% commission to its affiliates.
Why choose affiliate marketing?
Affiliate marketing requires minimal start-up costs when you compare it to setting up a traditional business and no prior experience or specialized knowledge is needed. All you need is a smart phone, an internet connection and a couple of hours a day to get started.
Many people opt for affiliate marketing as a side hustle as it can be worked flexibly around other commitments. But affiliate marketers who want to go for it can make as much money as they want if they are willing to put in the work and they have the right strategies in place. The income potential is uncapped.
It is advised that as well as using social media platforms, affiliate marketers build a website or blog to be able to market multiple products and create an asset that can generate a passive income for years.
With more than 11,000 affiliate programs in the US, 71% of US ad buys being online buys, and the phenomenal growth forecast for affiliate marketing in the next five years… affiliate marketing is one to watch.