Meet Zen, Britain's most overlooked and unwanted dog, who has been patiently waiting for a loving owner for an astonishing 650 days.
Zen, a charming brown and white lurcher crossbreed, was born into kennels in December 2021. Back then, Boris Johnson was the Prime Minister, and the Ukraine-Russia war had not yet begun. Despite his playful and cheeky personality, this 21-month-old pup has never caught the eye of a potential owner.
Zen's story begins with his mother, who was a part of an RSPCA cruelty case. Born into these circumstances, Zen was raised by the animal charity at the Blackberry Farm center in Aylesbury, Bucks, where he has spent his entire life.
An RSPCA spokesperson expressed their concern, saying, "This lovely boy has never experienced a home of his own and has spent his entire life living in kennels. Staff have done all they can to find him a new home, even giving him a name change from Blitzen in the hope it might spark some interest for this loveable boy."
Julie Allen, the center manager, added, "Poor Zen, we can't understand why such a beautiful, happy little boy has not found his perfect home yet. It breaks our hearts when we see him in our kennels, and the days and weeks go by, but he still gets overlooked. We know that somewhere out there there will be a family who would be the perfect fit for Zen. While we all love him, and he's such a pleasure to be around, him going off to his perfect new home is the ending we all want for him."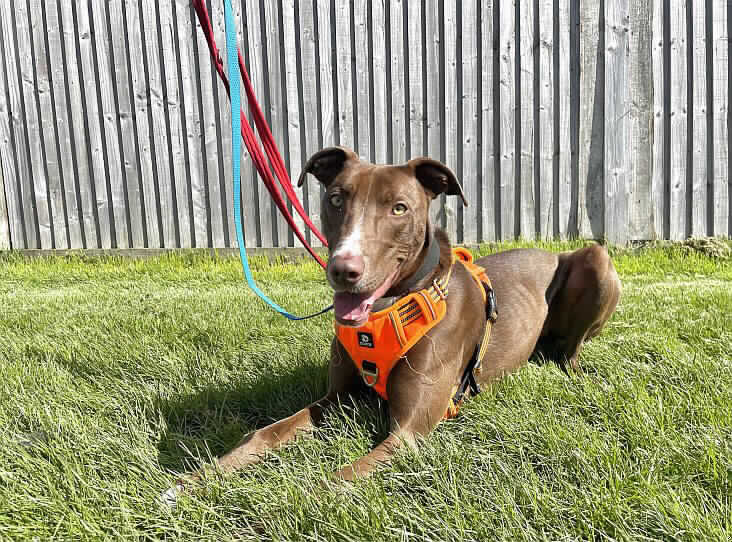 Zen is described as a dog full of energy and affection, always up for a good cuddle. Despite his lively nature, he also appreciates some peaceful downtime, often seen lying on his back with all four legs in the air. Potential adopters should have experience with large breeds and be confident in handling strong, playful dogs. Zen would thrive in a home where he won't be left alone for extended periods. He can live with children aged 16 or older and must be the only dog in the household, as he tends to become frustrated when interacting with other dogs.
The RSPCA spokesperson concluded, "Zen is looking for that special family who will provide him with the love and care he truly deserves. If you think you can offer Zen the forever home he's been waiting for, please get in touch with the RSPCA. If not, please help us share Zen's story far and wide, so we can find his new family and give him the happy ending he deserves."