Prepare to be amazed by the iconic rotating mansion of California, now available for purchase at $5.3 million (£4.16 million). This architectural marvel, located in the serene Mount Helix area of La Mesa, San Diego, offers breathtaking panoramic views from every angle, thanks to its ingenious rotating design.
Spanning an impressive 5,100 square feet, the mansion's second-floor structure rotates, providing 3,700 square feet of dynamic living space, complemented by a 1,400 square feet rotating deck. Immerse yourself in the beauty of the Californian landscape as you witness awe-inspiring sunrises and sunsets from any vantage point.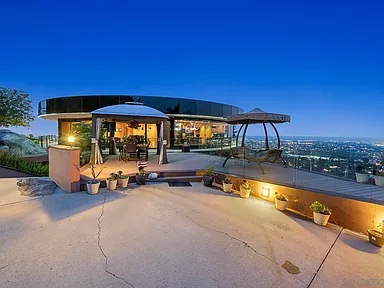 Step inside this stunning home to discover four exquisite bedrooms and bathrooms adorned with vibrant décor. The interior is thoughtfully designed to accommodate gatherings and create an ambiance of luxury. Outside, a small golf course awaits, alongside ample seating areas to savor the natural surroundings.
With floor-to-ceiling windows throughout, this circular property embraces an abundance of natural light. Modern appliances and top-of-the-line fixtures cater to your every need, ensuring a seamless living experience.
The listing aptly describes this residence as an "architectural masterpiece." It continues, "Designed as a rotating home, it offers a unique and luxurious living experience. The ability to adjust the surroundings by rotating the entire structure 360 degrees is both innovative and practical. This feature optimizes natural light and allows residents to revel in panoramic views from every corner."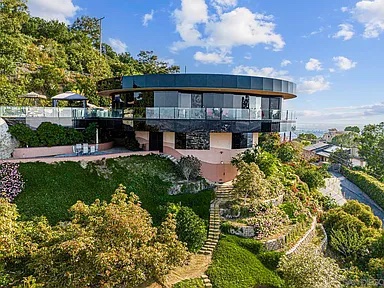 The open floor plan creates a sense of spaciousness and flow, while high-end finishes and premium fittings showcase a dedication to quality and opulence. The strategically placed large windows offer captivating views of the surrounding landscapes, cityscapes, or waterfront, depending on the home's location. Continually changing views ensure an ever-evolving experience for the occupants.
Equipped with modern technology and smart home features, this property provides a seamless and intuitive living environment. From climate control and lighting automation to integrated entertainment systems, comfort and convenience are paramount.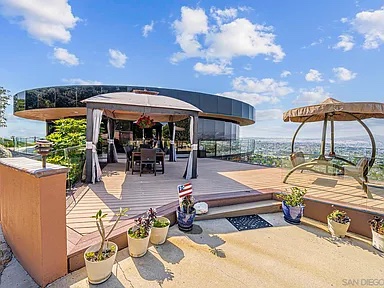 In summary, this rotating mansion transcends traditional design, captivating with its innovative features, luxurious amenities, and awe-inspiring views. It represents a truly extraordinary living experience, perfect for those seeking a dynamic and unparalleled place to call home.
For interested buyers, Melvina Selfani of Century 21 Award is the listing agent handling the sale of this remarkable property.