A model with an extravagant shopping habit has revealed that she went so far as to move house to accommodate her extensive collection of sexy underwear, which has cost her a whopping £150,000.
Hannah James, a former circus performer, earns a substantial income through her OnlyFans account, and a significant portion of her earnings is dedicated to her luxurious lingerie obsession. With materials ranging from sumptuous silk to exquisite 24K gold and Swarovski embellishments, the 26-year-old has amassed four vast wardrobes spread across two floors. These wardrobes are bursting at the seams with bra and knicker sets, bodysuits, limited-edition pieces, and much more.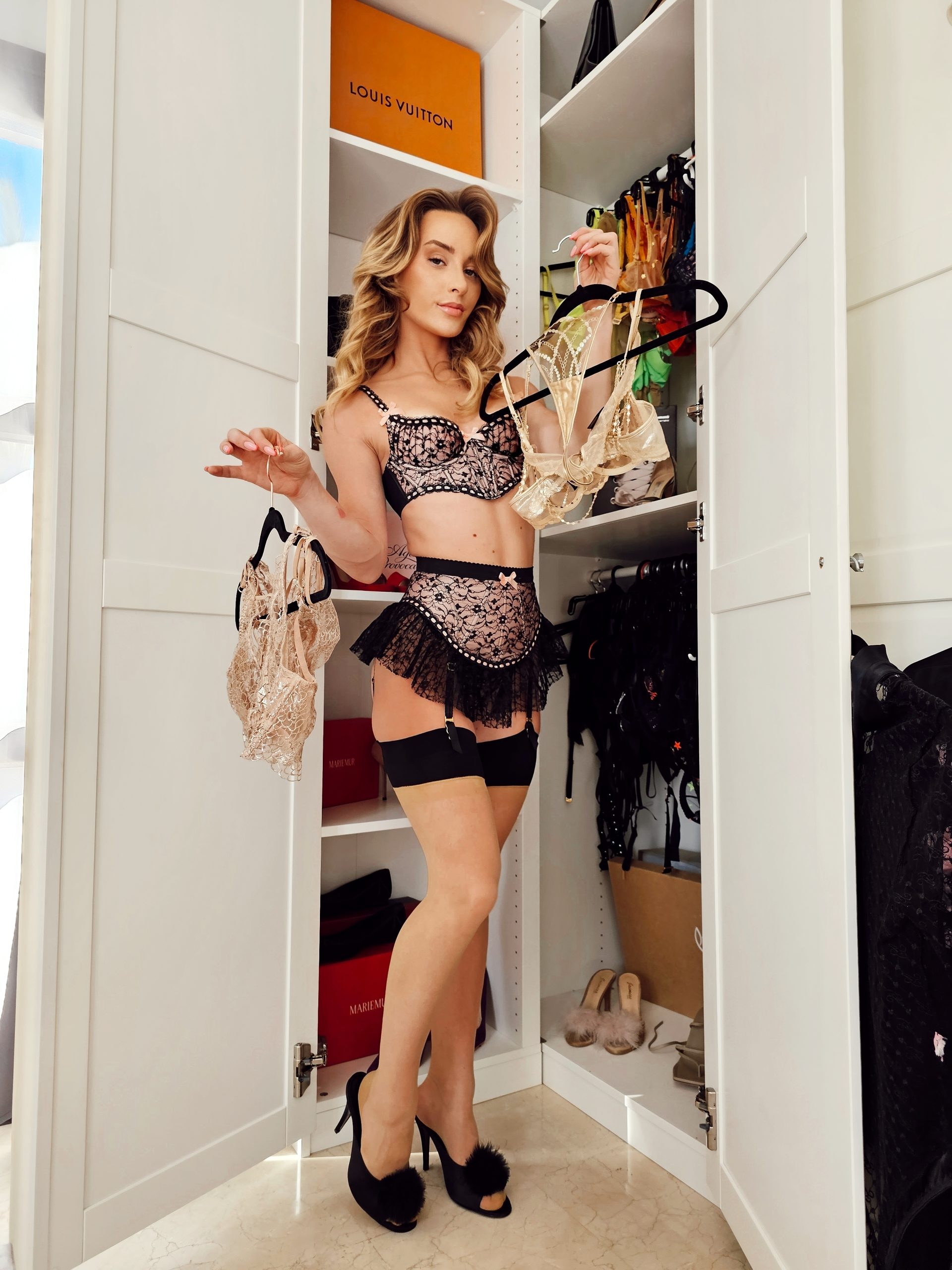 However, Hannah's insatiable desire to acquire more lingerie shows no signs of waning. She shares, "The element of luxury in my ensembles is what sets me apart. When I slip into a beautiful set of underwear, I feel like I'm levelling up. It helps me tap into my sexy, empowered alter ego—one who is confident and knows what she wants."
So far, Hannah has spent £150,000 on her lingerie collection, and she admits that she could easily double that amount if she didn't exercise restraint. In fact, she even relocated to a new house to ensure better storage space for her ever-expanding lingerie and clothing collection, yet she still finds herself running out of room. Her passion for lingerie blossomed during her teenage years when she watched a documentary about a model who received lavish designer gifts from men. Now, she lives that dream, with wealthy men from around the world indulging her by purchasing extravagant pieces.
Hannah, originally from Manchester and now residing in Spain, shares her experiences, stating, "As a child, I used to adore watching my grandmother at her dressing table, surrounded by perfume bottles and beautiful clothes. It inspired me to find my own inner glamour. Men will transfer money to me specifically for buying pieces they think would suit me. They also send me items from my shopping wish list or random gifts to a PO box. I feel like I'm fulfilling my teenage dreams; my lifestyle is incredible, and I have a stunning house brimming with lingerie."
The former trapeze artist favours vintage pieces due to their unique styling and superior quality. Recently, she splurged over £1,000 on an Agent Provocateur set and spent £10,000 on a Bordelle bondage lingerie outfit with 24-carat gold accessories, including a matching bag and shoes. The brand is a favourite among stars like Beyoncé. Hannah, who launched her OnlyFans account in 2019 and has since earned over $1 million USD, explains, "With my petite bust and curvier bottom, my body is better suited to high-end pieces with custom sizing. Each piece is distinctive, with softer silk and unmatched support. Some feel like timeless corsets that will endure. One of my Agent Provocateur sets is completely encrusted with Swarovski crystals, while others feature intricate hand-stitched designs adorned with dazzling beads and sequins. However, it was the Bordelle lingerie dress that truly fuelled my obsession. When I wore it to an event, it garnered significant attention. Photographers wanted to capture it, fellow models wanted selfies, and I was overwhelmed with the sense of power that luxury lingerie and high-end clothing can bring. I felt incredible."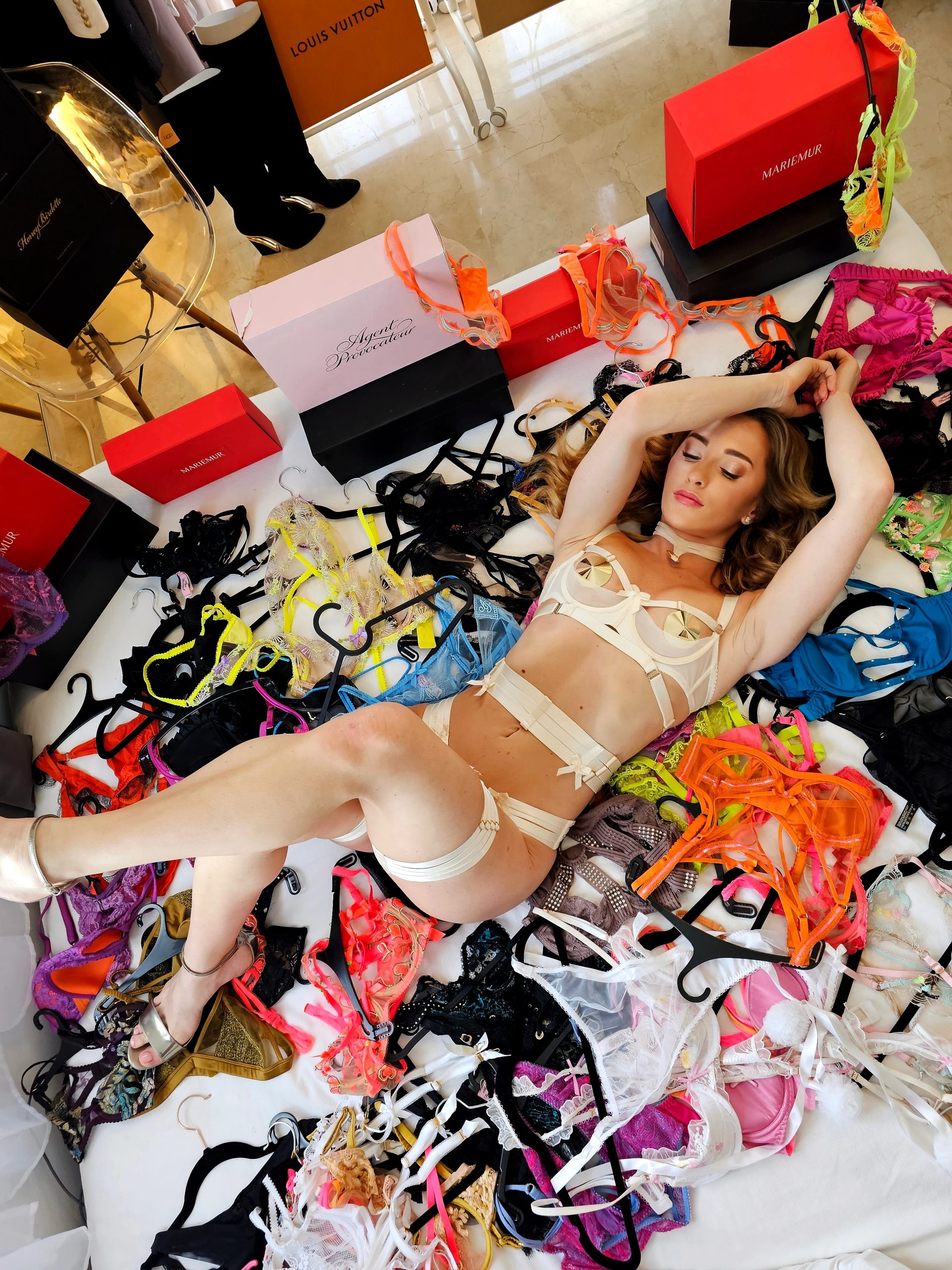 While her undergarments exude luxury, Hannah describes her general fashion style as "modest." She prefers going without makeup when going to the gym or heading to the beach. However, when it comes to work, she always embraces full glam, as she believes it helps her generate more income. Hannah explains, "Some people might find my collection excessive, but on filming days, I require up to 12 different outfit changes. As an online model, I can't keep wearing the same sets repeatedly—I want to mix it up and feel special and unique. When I wear an expensive designer lingerie set, people take notice, and I find that they are more generous too. They appreciate the quality and the effort I've put into finding something exciting and different."
To showcase her growing collection and connect with like-minded individuals, Hannah shares her luxurious items and reviews on YouTube. Her channel has become a platform where she discusses sizing, comfort, and her passion for lingerie, attracting free samples and partnership offers from luxury fashion brands.
Hannah concludes, "Given the constant inquiries I receive about my underwear, I decided to launch a channel where I can share my passion and provide insights for other shoppers to consider."