In an extraordinary testament to his allegiance, a fervent admirer of Liquid Death has immortalized the company's logo by tattooing it onto the nape of his head.
Taylor Hain, a passionate devotee, dedicated three hours to this intricate tattoo, etching the iconic skull emblem onto his scalp. The 30-year-old proudly paraded his adorned head, displaying his unwavering loyalty to the canned water powerhouse.
Upon witnessing Taylor's enduring commitment, Liquid Death reciprocated with a gesture of appreciation. The company, enamored by his display of devotion, sent him an expansive goodie package brimming with an assortment of drinks, t-shirts, caps, and an array of merchandise.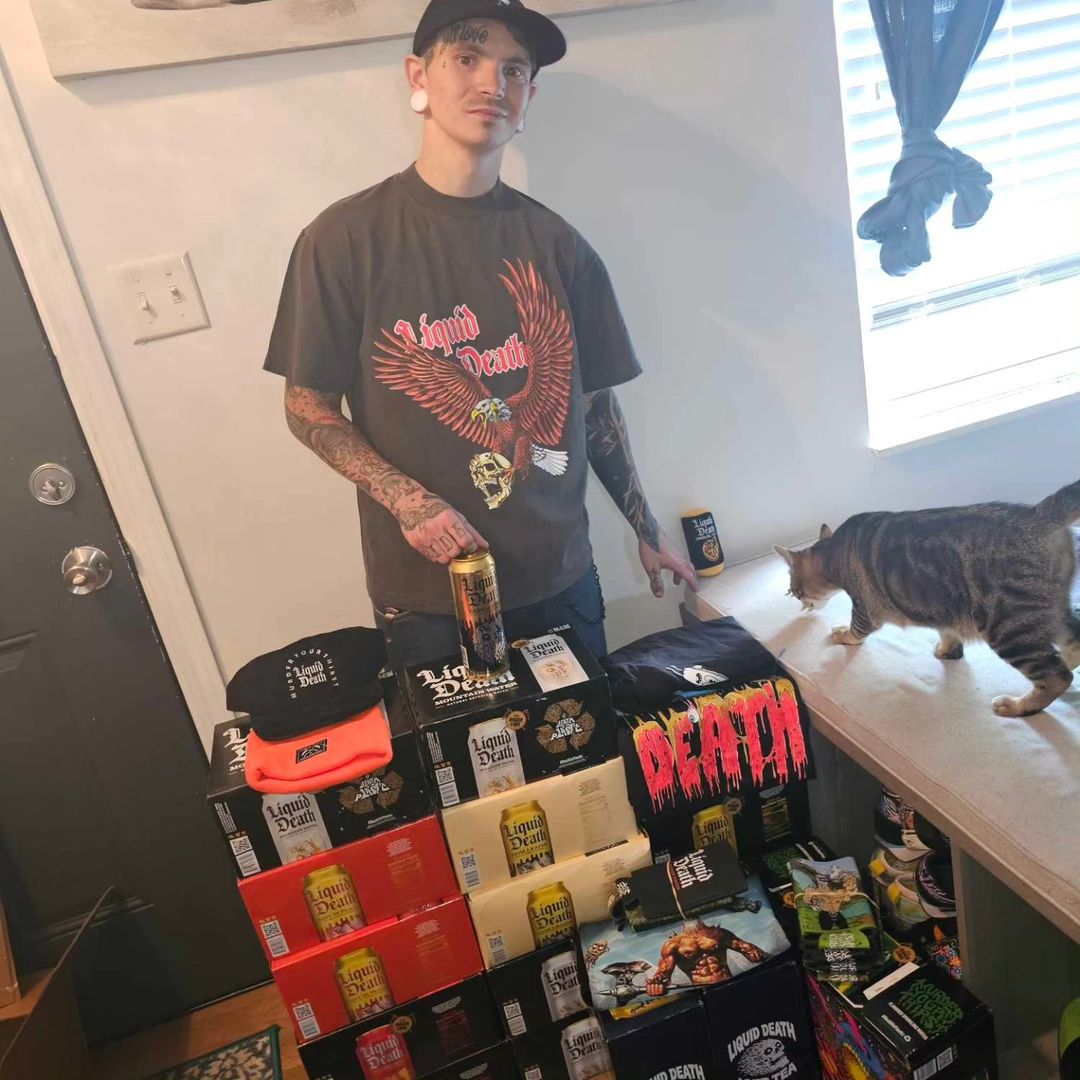 Taylor, a steel worker hailing from Dayton, Ohio, USA, articulated his sentiment towards Liquid Death: "I just wanted to give a huge shout-out to Liquid Death. I can't begin to express my gratitude enough. Keep doing killer work, and I'll keep buying your products to quench my thirst."
Revealing the genesis of his affinity for Liquid Death, Taylor revealed, "I discovered the product a couple of years ago. So, I decided to get a tattoo done." The unexpected magnitude of the goodie bag extended to him served as a delightful surprise, leaving Taylor deeply appreciative of the company's generosity.
Evan B, the accomplished artist, masterfully executed the tattoo that now graces Taylor's scalp.
Mike Cessario, the CEO and co-founder of Liquid Death, celebrated the authentic and unbidden display of loyalty, stating, "Real tattoo. Real customer. We didn't pay him, and he doesn't work for us. Just a random fan who posted on social media and will now receive numerous complimentary products. When your beverage brand transcends mere functionality and becomes an integral part of people's lives, transforming 'consumers' into ardent 'fans'."
A spokesperson from Liquid Death humorously chimed in, "Concerned about your thirst stealthily ambushing you and extinguishing you in your slumber? So was Taylor Hain, until he emblazoned our novel skull-on-skull tattoo. Now, he can rest assured that worry won't infiltrate his life ever again."