As more individuals strive for cleaner and healthier lifestyles, adopting eco-conscious practices such as recycling, reducing hot water usage, and consuming nutritious foods can significantly lower one's carbon footprint. Another significant step towards a sustainable lifestyle is cooking with an environmentally friendly and clean energy source like propane.
Propane has already become a reliable energy choice for over 12 million homes, providing people with dependable energy they can trust. Notably, gas-powered cooktops are the preferred choice of 96% of professional chefs, including renowned nutritionist and chef Dean Sheremet of "My Kitchen Rules," who partnered with the Propane Education & Research Council (PERC) to raise awareness about the benefits of cooking with gas.
Sheremet emphasized the importance of dispelling misinformation about cooking with gas, stating, "The act of cooking itself can impact indoor air quality, irrespective of the energy source that powers the stove. By having a qualified technician install and regularly service the stove, maintaining proper ventilation using a hood or opening doors and windows, and following common sense safety measures, we can ensure the safe use of any stove."
Ventilation plays a crucial role when cooking, and it's worth noting that cooking with propane results in lower carbon dioxide (CO2) emissions compared to electric cooking, on average. This is because more than 60% of electricity production comes from natural gas or coal generation plants, which release higher CO2 emissions during the generation process.
Beyond the environmental benefits, propane-powered cooking appliances offer convenience, modern design, and exceptional performance in kitchens, enabling home chefs to prepare healthy meals for their families quickly. Sheremet appreciates the efficiency of a propane cooktop when whipping up nutritious dishes like Skirt Steak with Salsa Verde and Spaghetti and Clams, which can be prepared in minutes using clean energy.
"Chefs, and parents like me, prefer gas for a variety of reasons," Sheremet explained. "For instance, my son, Atlas, is often in the kitchen when I'm cooking, and we know kids don't always heed our warnings not to touch a hot pan or stove. Propane cooktops provide greater control over heat levels, and their instant flame turnoff capabilities help them cool faster than traditional electric stoves, which can remain dangerously hot even after being turned off."
For those interested in cooking with propane, the Propane Education & Research Council (PERC) offers useful do's and don'ts for safe and enjoyable cooking experiences:
Do's:
Follow the manufacturer's installation and operating instructions.
Keep pot handles turned inward to prevent accidents, such as knocking pots off the stove or children reaching for the handles.
Keep the range surface clean.
Keep flammable materials away from burner flames.
Don'ts:
Do not cover the oven bottom with foil as it can restrict air circulation.
Never use gas ranges for space heating.
Do not allow children to turn burner control knobs.
Do not leave food unattended on the cooktop.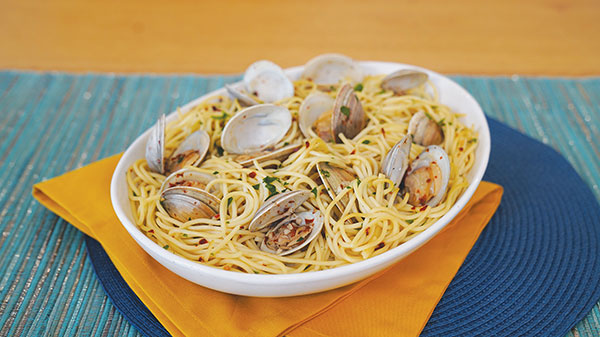 Spaghetti and Clams Recipe courtesy of chef Dean Sheremet on behalf of PERC
Ingredients:
Salt
8-12 littleneck or other small clams in shell, scrubbed
1/4 pound spaghetti noodles
2 tablespoons extra-virgin olive oil
1/2-1 garlic clove, minced
1/2 dried red chile pepper
1/3 cup vermouth or white wine
1-2 tablespoons chopped fresh Italian parsley
Instructions:
Bring a large pot of lightly salted water to a boil. Soak clams in cold water.
Add spaghetti to boiling water and cook until slightly underdone.
In a large saucepan over medium-low heat, add olive oil, garlic, and chile pepper. Saute gently, ensuring garlic does not brown.
Add vermouth and clams; cover. Clams should open in about 2 minutes.
Add hot drained pasta, cover, and shake pot gently. Simmer 1-2 minutes until spaghetti is cooked to taste.
Discard unopened clams. Add half the parsley and shake the pan to distribute evenly. Transfer to a plate or bowl and sprinkle with remaining parsley.
Skirt Steak with Salsa Verde Recipe courtesy of chef Dean Sheremet on behalf of PERC
Ingredients:
1/2 cup extra-virgin olive oil
1/4 cup red wine vinegar
2 thinly sliced scallions
3 tablespoons capers, drained and roughly chopped
3 garlic cloves, minced
1/2 teaspoon kosher salt, plus additional to taste, divided
1/2 teaspoon black pepper, plus additional to taste, divided
1 1/2 pounds skirt steak
2 tablespoons chopped parsley
2 tablespoons chopped fresh mint, divided
1/4 cup pistachios
1 romaine heart
1 radicchio
1/2 cup crumbled goat cheese
Instructions:
Whisk together olive oil, vinegar, scallions, capers, garlic, 1/2 teaspoon salt, and 1/2 teaspoon pepper.
Pour about 1/3 of the dressing (about 1/3 cup) over the steak and turn to coat.
Add parsley and 1 tablespoon mint to the reserved dressing; stir and set aside.
Cover and refrigerate the steak for 30 minutes, or up to 24 hours.
In a small saute pan over medium heat, toast pistachios until golden brown, about 3 minutes. Set aside.
Set the grill to medium-high heat or heat a grill pan on the stovetop over medium-high heat.
Grill the steak for about 5 minutes per side. Transfer to a plate and let it rest for 10 minutes.
Cut romaine hearts lengthwise into quarters. Arrange romaine and radicchio in layers on a large platter, leaving room for the steak.
Sprinkle with goat cheese, pistachios, and remaining mint.
Slice the steak into 3-inch pieces, then slice against the grain to cut the steak into wide strips.
Add sliced steak to the platter and drizzle the reserved dressing on romaine and steak.
Explore the benefits of cooking with propane and find more delicious recipes from Dean Sheremet at Propane.com/ChefDean.