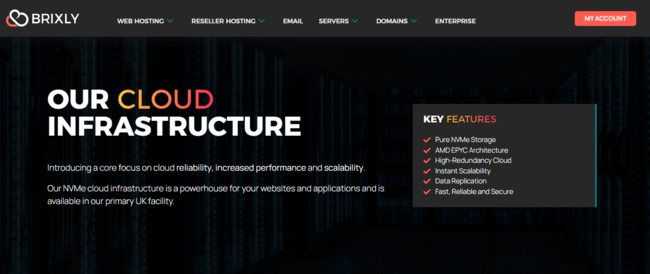 More than a year after its deployment, Brixly's NVMe cloud infrastructure continues to set the pace in the hosting industry with a remarkable 500TB storage capacity and around 20 hypervisor nodes. Brixly, a leading provider of web hosting services in the UK, is proud to highlight the success and robustness of its NVMe cloud infrastructure. Launched in September 2021, this state-of-the-art infrastructure has not only proven its robustness and reliability but has also demonstrated impressive scalability, now boasting a massive 500TB in storage capacity and around 20 hypervisor nodes.
The company's innovative platform, which saw an investment of over £250,000, was meticulously planned and built from the ground up. It has provided a significant number of performance and reliability benefits, setting a new benchmark in the hosting industry.
"Looking back at the journey, it's been nothing short of amazing! Our NVMe cloud infrastructure has truly stood the test of time, proving its robustness and reliability," said Dennis Nind, CEO of Brixly, with a twinkle of excitement in his eyes. "From humble beginnings with just 4 nodes at deployment, we've grown to around 20 hypervisor nodes. And let's not forget the storage – we're talking a whopping 500TB! That's a lot of data!"
"But what makes me particularly proud," Dennis continued, "is our decision to roll out this advanced infrastructure not just for our Premium clients, but for all our shared and reseller hosting clients as well. We believe in inclusive growth and are committed to providing high-quality, reliable, and high-performance hosting services to all our clients, regardless of the size of their business."
As Brixly continues to innovate and grow, it remains committed to providing its clients with top-notch, reliable, and high-performance hosting services. The company looks forward to another year of serving its clients with the industry's best technology.
"Reflecting on this incredible achievement, I am filled with immense gratitude and pride for our dedicated team at Brixly," said Dennis Nind, CEO of Brixly. "This milestone would not have been possible without their unwavering commitment, tireless efforts, and innovative thinking. Our team have worked around the clock, pushing boundaries and exceeding expectations to ensure we deliver the best possible service to our clients."
He continued, "Our team is not just the backbone of our operations but the heart and soul of Brixly. Their dedication and passion for their work are a testament to our business. They've embraced our mission and values, and their hard work has played a pivotal role in shaping Brixly into the industry leader it is today. I am incredibly proud of each and every one of them and look forward to seeing where their drive and creativity will take us in the future."
For more information about Brixly and its services, please visit 
www.brixly.uk
.
About Brixly

Brixly is a multi-award-winning hosting brand independently owned and operated in the UK. It provides one of the UK's fastest-growing
hosting
platforms designed for the reseller market.