In a case of mistaken identity, police officers were startled when they spotted what appeared to be a gigantic alligator on a beach, only to realize it was a sand sculpture.
The officers were initially taken aback by the size of the imposing reptile and approached cautiously, maintaining a safe distance. However, upon closer inspection, they quickly discerned that it was, in fact, a piece of beach art.
One officer cautiously tugged at the alligator's tail, only to have the wet sand crumble away between his fingers.
This amusing incident took place on May 11th, on Treasure Island, a barrier isle located approximately 30 miles southwest of Tampa, Florida, in the United States.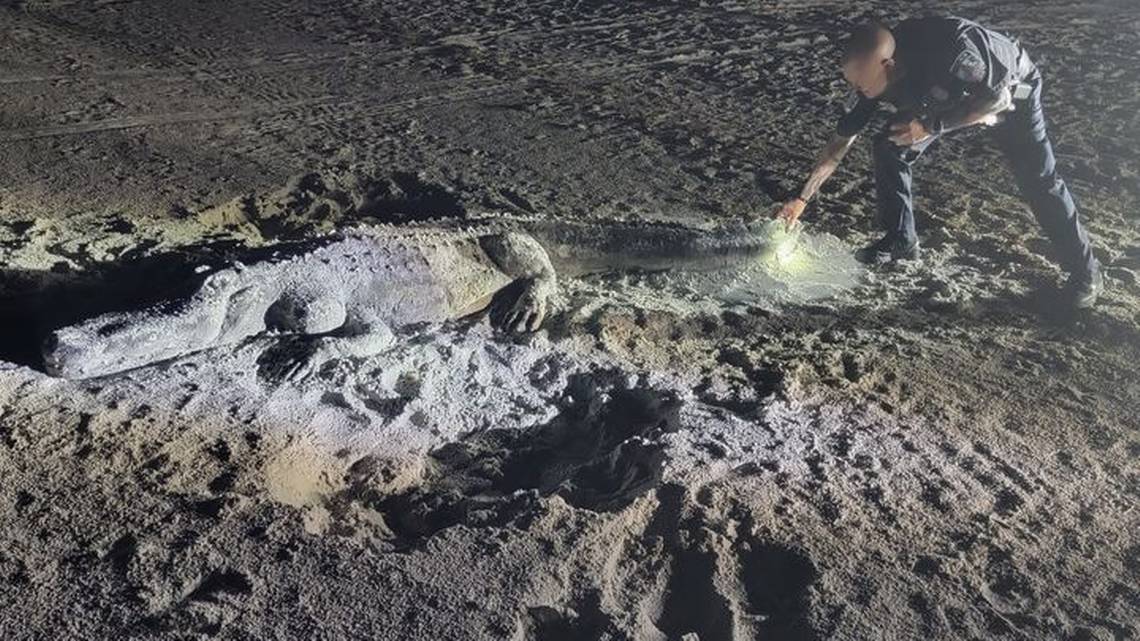 A spokesperson from the Treasure Island Police Department shared the incident, stating, "Look at the size of that gator one of our officers tried rounding up on Treasure Island Beach last night. Okay, it wasn't a real gator, it was just a crafty crafted sand sculpture."
To ensure the safety of local residents and protect wildlife, including nesting sea turtles, the authorities decided to flatten the sand sculpture. They expressed appreciation for the talented individuals who create such sand art but urged visitors to flatten sandcastles and sculptures before leaving, especially during turtle nesting season.
"We love the talented people creating works of art in the sand. But with it being turtle nesting season, remember to flatten sandcastles and sculptures before you leave. The sea turtles will thank you," added the police spokesperson.
Local residents and observers were amused by the incident, with one resident commenting, "That looks so real," while another jokingly remarked, "Can you imagine walking up to this in the dark? Real or not, I would be running."
This amusing case serves as a reminder to appreciate the creativity of sand sculptors while also being mindful of environmental considerations and the well-being of local wildlife.
Article put together by Z News Service images by Jam Press (contact them for usage)