Police officers are searching for a 19-year-old man who goes by the name of Pharrell Williams. The teen is accused of breaching the terms of his court order. Interestingly, the suspect shares the same name as the popular US singer Pharrell Williams, known for his hit songs such as "Get Lucky," "Blurred Lines," and "Happy."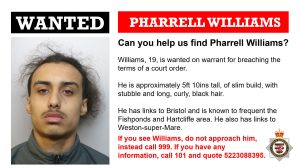 The suspect is described as a 5ft 10″ man of slim build with stubble and long curly hair. He is from Bristol but also has links to Weston-super-Mare, Somerset. Avon and Somerset Police have advised the public not to approach the wanted man and instead urged them to call 999 if they have any information about his whereabouts.
Locals have taken the opportunity to poke fun at the namesake. Claire Bridgewater jokingly asked if he was getting into trouble over the song "Blurred Lines." Joanna Larcombe quipped that he would be happy in a room with a roof, referencing Pharrell Williams' hit song "Happy." Emma Howden speculated that the police would be happy when they caught him, while Mark Vine suggested that the suspect didn't look happy and probably hates those blurred lines. Meanwhile, Andy Abraham made a joke about the suspect's name, referencing the song "Get Lucky."
Jade Shauna Chudley, on the other hand, offered a more positive outlook, saying that the wanted man might get lucky and not be found.