In a display of audacity that left Cornish locals shaking their heads, a tourist boldly drove their Mercedes onto a crowded beach of holidaymakers, drawing both amusement and incredulity.
The incident unfolded recently (24 August) on Newquay's Towan Beach, a renowned tourist hotspot in Cornwall.
Photographer Kevin Harmer captured the scene, with his pictures showing the white car parked amidst sun-seekers enjoying the coastal warmth. One image depicts the car positioned near a group of children playing in the sand, while another captures a man at the wheel as a passenger seemingly hides their face.
"People were shocked," recounted Kevin to NeedToKnow.co.uk. "The car drove onto the beach, and the lifeguard promptly announced that no driving was allowed. The lifeguard approached the driver, who turned around and left without any further issues."
With the beach bustling with activity, Kevin shrugged off the incident, noting, "We've become accustomed to it. Just another day at the office."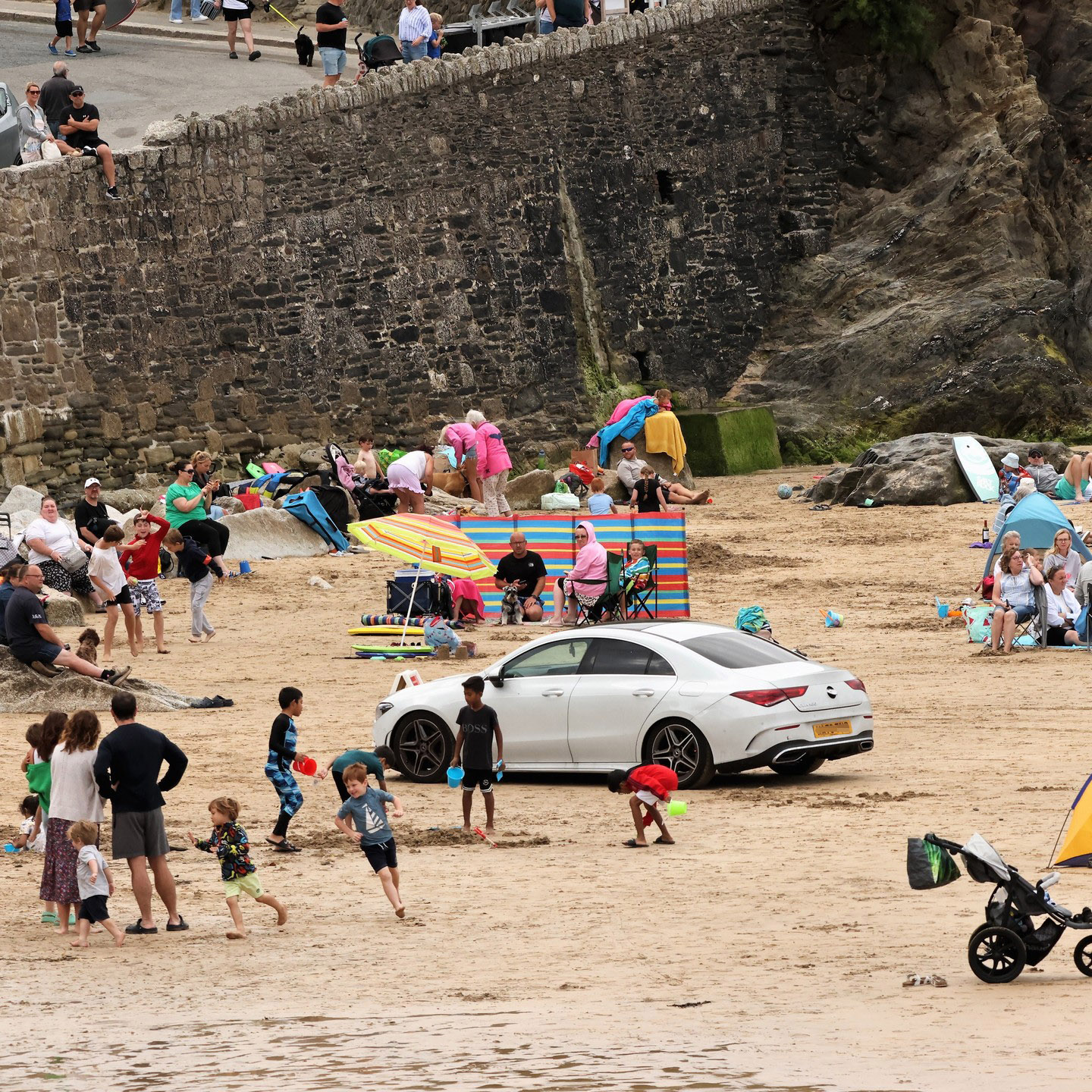 This incident isn't an isolated case, as other reports have emerged of vehicles getting stuck on beaches in Cornwall, including Towan Beach. Earlier this month, a local resident witnessed three cars stranded on the sand, lamenting that the "idiot summer" trend had begun.
Connor Duffy, a 33-year-old chef from Newquay, spotted the trio of cars venturing onto Towan Beach, despite the presence of numerous parking options nearby. The vehicles eventually required assistance to extricate themselves from the sandy predicament, as RNLI trucks were called in to assist.
"They all drove down together, didn't look like they knew each other as they were all separate cars," recalled Connor. "They had to be pulled out by locals, as no tractors could be called in. Lifeguards tried to sort it as quickly as possible and did so. Just shows common sense isn't really that common. Happens at least once a week now due to tourists not reading the signs and thinking that they are fine to do so."
The incident underscores the need for visitors to adhere to local regulations and signage, helping to preserve the natural beauty of these popular tourist destinations while preventing such avoidable mishaps.