As a parent, selecting a suitable car seat for your child is one of the most crucial decisions you'll make. Car crashes are a leading cause of fatalities among children aged 12 and below, emphasising the importance of choosing a car seat that fits your child and vehicle correctly.
Throughout your child's growth, you'll need to adjust their car seat to accommodate their weight and height. There are four recommended stages of child restraint usage: rear-facing harness, forward-facing harness, belt-positioning booster seat, and seat belt. Various car seats offer different configurations, allowing families to choose the product that best suits their child's needs.
For instance, the Graco 4Ever DLX Grad 5-in-1 Car Seat is an innovative seat that provides extended longevity and value. Designed for children from 4-120 pounds and up to 12 years of age, it offers five modes of use, including rear-facing and forward-facing harnesses, high-back and backless boosters, and a removable seat belt trainer. Additional features such as a space-saving slim design, SnugLock technology for easy installation, and adjustable headrest and harness enhance convenience and safety.
To help you select the right car seat with safety as a priority, Graco has developed a stage-by-stage guide based on guidelines from the American Academy of Pediatrics and the National Highway Traffic Safety Administration.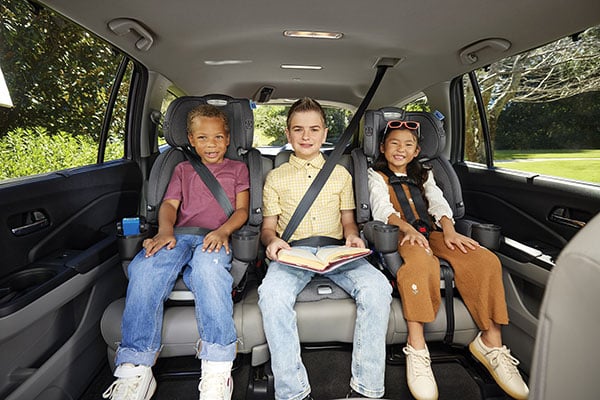 Stage 1: Rear-Facing Harness The American Academy of Pediatrics recommends keeping children in a rear-facing car seat for as long as possible in the backseat of the vehicle. Convertible and all-in-one seats with higher weight limits than infant carriers allow children to remain rear-facing up to 40-50 pounds.
Stage 2: Forward-Facing Harness Once children outgrow their rear-facing seats, they should transition to a forward-facing car seat with a harness and top tether in the backseat. This stage typically lasts until children reach the maximum height or weight specified for the seat, usually around age 5-6.
Stage 3: Belt-Positioning Booster Seats After outgrowing their forward-facing car seats, children should use a high-back belt-positioning booster seat (for 40-100 pounds) to provide additional head and neck support. As they grow older, they can switch to a backless belt-positioning booster seat (for 40-120 pounds) until the vehicle seat belt fits them properly without a booster seat, typically around 9-12 years old.
Stage 4: Seat Belt Although approximately 31% of parents transition their children directly from a high-back booster to a vehicle seat belt, many children still require assistance with seat belt fit until they reach ages 8-12. The 4Ever DLX Grad 5-in-1 Car Seat includes a removable Seat Belt Trainer that helps guide the seat belt into the correct position, ensuring longer-lasting safety for children while allowing them to feel more grown-up.
Once the seat belt fits properly, children no longer need a booster seat. They can sit against the vehicle seat with knees bent at the edge, the lap belt positioned low on their hips and upper thighs, the shoulder belt across the collarbone, and flush with the torso.
To find the ideal car seat for your child's specific needs, visit gracobaby.com for more information and options.