Steve Huison, renowned for his role in the iconic film "Full Monty," has unveiled an unexpected facet of his talents – stunning oil paintings capturing his co-stars.
The 60-year-old portrayed Lomper, a steel mill security guard, in the acclaimed 1997 movie. However, his artistic flair doesn't end on the silver screen; he wields a paintbrush with the same finesse.
Channeling his creativity, Steve crafts landscapes reminiscent of the illustrious French painter Claude Monet. Beyond this, he delves into portraiture. His latest artistic triumphs feature fellow "Full Monty" cast members: Robert Carlyle, known as Gaz, and Tom Wilkinson, who portrayed Gerald.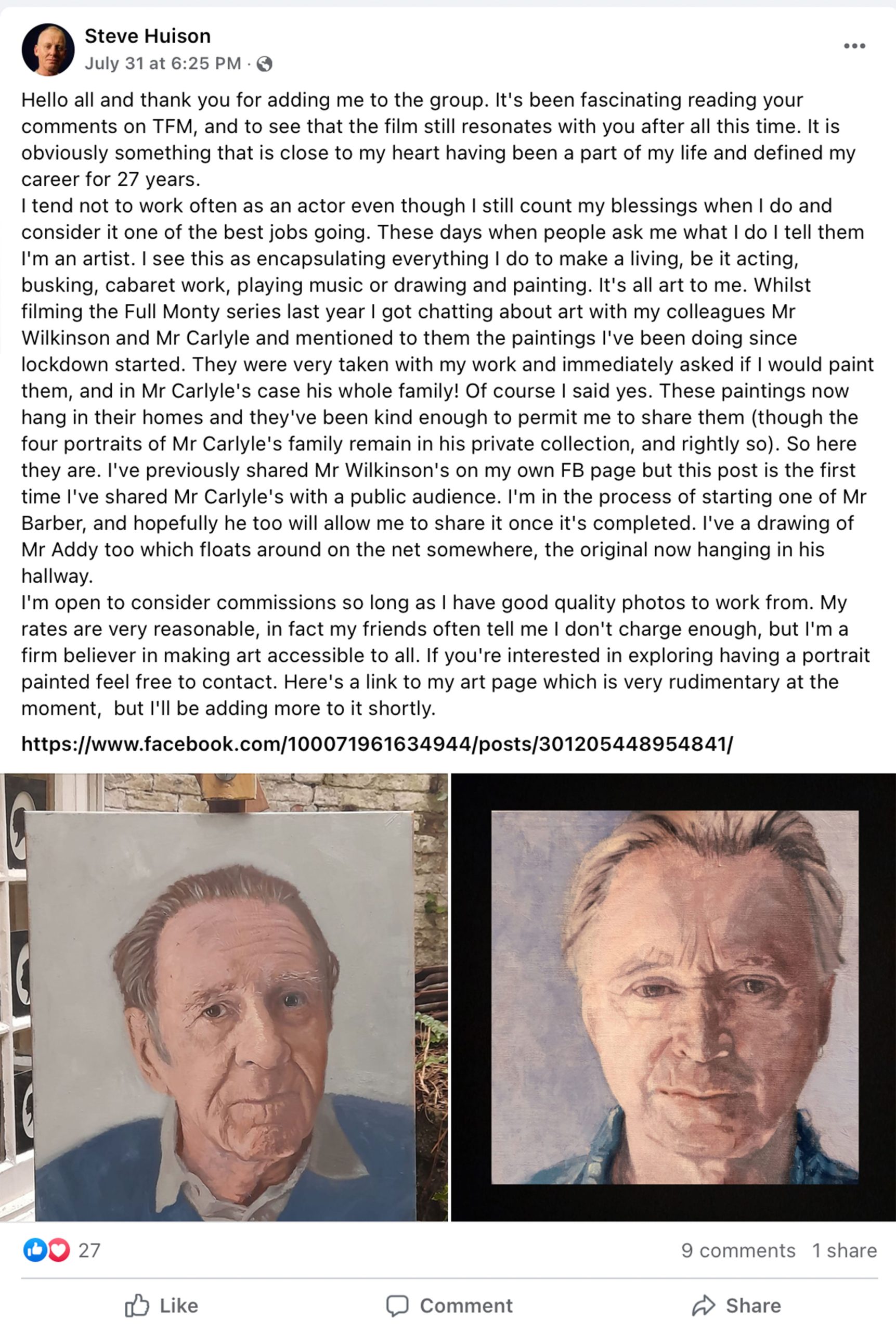 These two exquisite portraits now grace the walls of their respective abodes, a testament to Steve's multifaceted talents.
Even as he reprised his role as Lomper in the recent "Full Monty" series on Disney Plus, Steve found solace in his artistic pursuits.
"The 'Full Monty' holds immense significance for me, having been an integral part of my life and a cornerstone of my career for over 27 years," he reflects.
Despite his acting career, Steve identifies as an artist, a vocation he passionately embraces.
While on the set of the latest series, Steve engaged in art-related discussions with his colleagues, Tom Wilkinson and Robert Carlyle.
"The conversations led to my ongoing painting endeavors that took flight during the lockdown. My colleagues expressed genuine interest in my work and swiftly inquired if I would consider painting them," Steve shares.
With enthusiasm, he accepted the challenge.
"These paintings have now found their rightful place in their homes, and I'm grateful for their permission to share these creations," Steve acknowledges, the modesty of an artist who lets his work speak for itself.
Four exquisite portraits capturing the essence of Robert Carlyle's family reside exclusively in his personal collection, honoring the intimacy of art.
Born in Leeds, Steve, also recognized for his portrayal of Eddie Windass in "Coronation Street," extends his artistic offerings to commissions.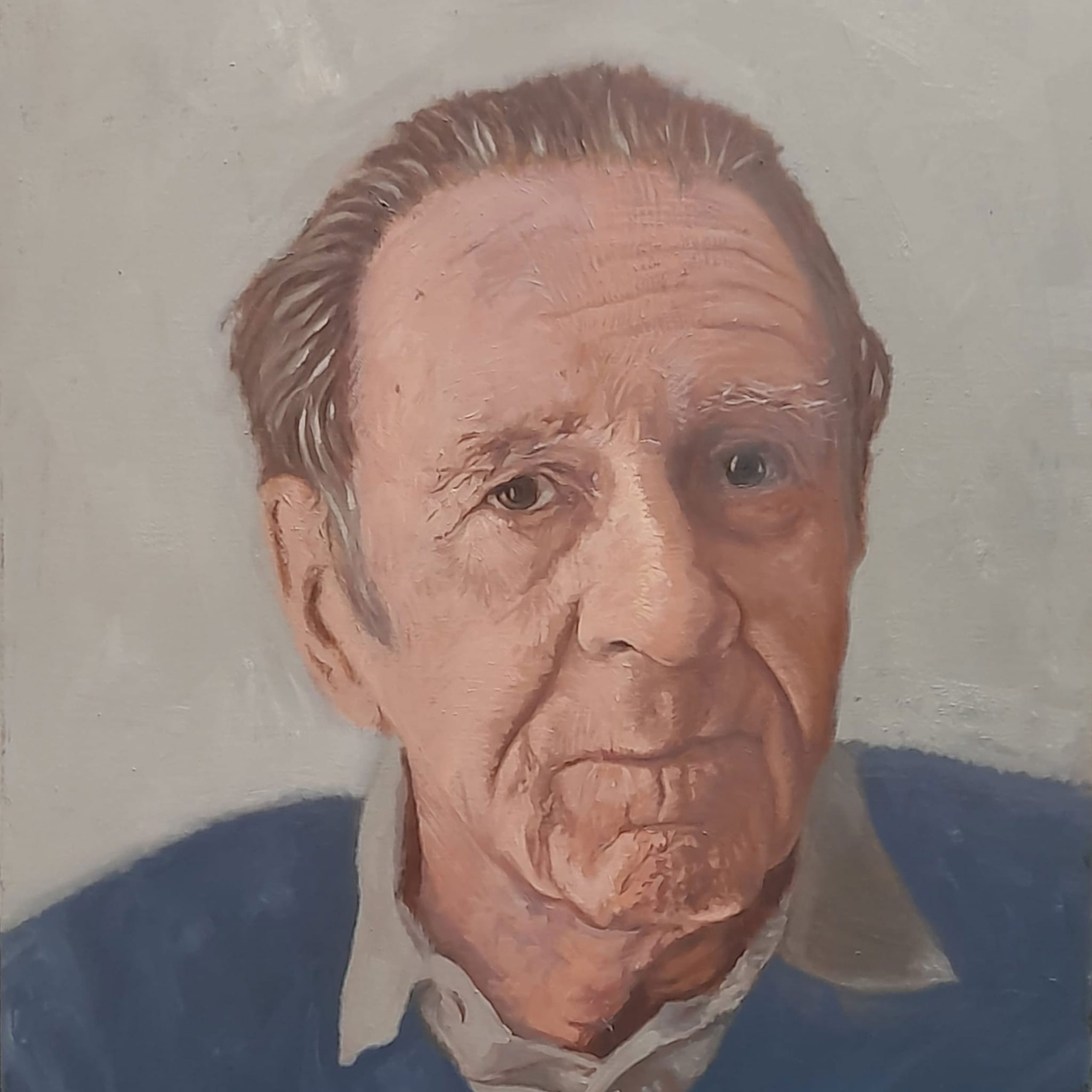 Notably, Steve auctioned his artworks depicting "Coronation Street" stars to raise funds for a mental health charity, emphasizing his commitment to a noble cause.
"I welcome commissions, provided I have high-quality reference photos to guide my work. My rates are quite reasonable – friends often comment that I undercharge. Yet, my belief is firmly rooted in making art accessible to all," Steve asserts.
"Full Monty," a cinematic masterpiece tracing the journey of former steelworkers embracing an unconventional path as male striptease performers, continues to captivate hearts.
Dominic Higgs, an ardent admirer of "Full Monty," lauds Steve's artistry, exclaiming, "Absolutely stunning!"
Frank Berry echoes the sentiment, praising, "Wonderful, Steve. It captures that subtle melancholy that renders him an entrancing presence."
Ben Crompton, charmed by the portraits, concludes with a simple yet eloquent "That's brilliant, Steve."