In a surprising turn of events, two senior citizens were caught on camera indulging in unconventional entertainment during a chess game.
These two elderly gentlemen were seated at a table in a shopping centre's food court, engrossed in a chess match. However, their attention took a rather unexpected detour when one of the grinning seniors eagerly held up his phone to show something to his companion across the table.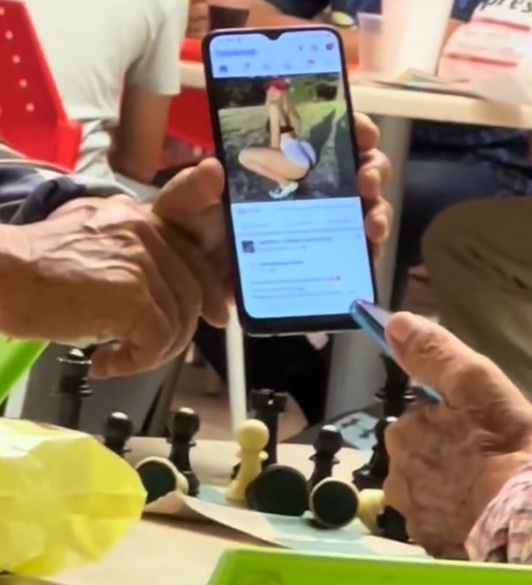 A nearby observer couldn't resist the intrigue and zoomed in on the screen, revealing the two men ogling pictures of two scantily-clad models. One model sported an orange bikini, while the other donned blue hot pants and a black top.
This comical incident unfolded at a shopping centre in Mazatlán, Mexico, leaving onlookers amused and entertained. One local humorously quipped, "Me and my friend in 2060."
Another observer said, "They seem to be enjoying it because they couldn't see that kind of thing back in their day."
Yet another person shared an interesting perspective, writing, "My grandfather's carer told me that they still think they have a chance because they are young at heart."
Ashley noted with amusement, "That gentleman seems quite delighted to educate his friend."
However, Dana expressed a more reserved sentiment, saying, "No! I don't want to be that woman."
Disclaimers:
This content and images have been licensed to use by Jam Press, edited and syndicated by https://www.znewsservice.com/.
Should you have any questions relating to this content please get in touch with Jam Press via  https://www.jampress.co.uk/contact-us/